Kelly Clarkson Praises Husband For Giving Their Kids The Things Her Dad Never Gave Her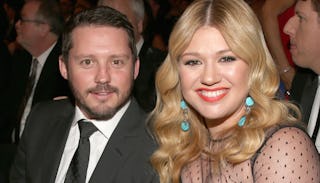 Kelly Clarkson opened up about her absent father and why her husband is such a great dad
Last week, Kelly Clarkson stunned American Idol judges with a moving performance of a new song she wrote about her absent father. Now, the 33-year-old is back in the media talking about the husband who restored her faith in love.
In an interview with Ryan Seacrest, Clarkson says it wasn't until she wrote her new song, "Piece By Piece," that she realized how hurt she was by her strained relationship with her dad. "I don't think I knew how much that affected me until writing that song," said Clarkson. "I definitely didn't know it would affect me like it does when I sing it live because that's not fun. It's awesome, but it's kind of sad that so many relate to this song."
What heals her, she says, is watching her husband be "such a great father" to their one-year-old daughter, River Rose. "Watching my husband love on his daughter all the time you know, go to her events and just be there and, like, be present is hard to watch but beautiful to watch," she says. "I know that my kids are going to have that."
Clarkson is expecting her second child with Blackstone in a matter of weeks, and she blames a lot of her strong emotions on pregnancy hormones, but these are difficult feelings that she's working through. Anyone who's ever grieved an absent parent or had a less than ideal relationship with the people who raised them can totally relate to the way those situations impact you once you finally have kids of your own.
My parents divorced when I was nine years old, and I've only seen my father a handful of times since then. He quickly moved on with a new wife and new kids, essentially leaving my siblings and me in his past, and I always thought I was coping so well because I didn't miss him that often and his absence didn't affect my day to day life. It wasn't until I got married and had kids that I truly grieved for the relationship I'd never have with my dad, but watching my husband be a father to our kids gave me a lot of reasons to celebrate as well.
It's healing to love your own kids in the way you were never loved, and it's even more healing to have a devoted partner who you know will be there for your kids, so they won't ever go through the same things you went through. The pain of having an absent parent never disappears, but the love you find later in life can soothe the ache and help you leave those hurts behind. Clarkson may not realize it, but she's speaking out about feelings to which so many of us can relate, and it's inspiring to see how she's come out the other side of her strained relationship with her dad, so strong and with so much love to celebrate.