Kelly Clarkson Covered 'Fancy' In Honor Of Reba McEntire And It Was Glorious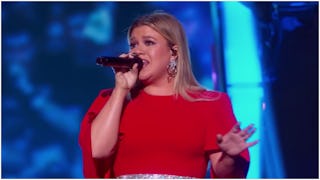 Image via YouTube
Kelly Clarkson covered "Fancy" and her mother-in-law Reba McEntire looked so, so proud
Need a little bit of a pick-me-up on this cold, dreary day? Kelly Clarkson covered her mother-in-law Reba McEntire's song "Fancy" at the Kennedy Center and McEntire couldn't have looked prouder. Please name one better celebrity family combo than Kelly Clarkson and Reba McEntire. We'll wait.
McEntire was honored during the Kennedy Center's 41st annual ceremony and Clarkson stole the show with an incredible cover and heartwarming speech.
"I've been a fan of Reba since I was a little girl. Her voice has always felt nostalgic for me. Even as an adult, there's something about her tone and her storytelling that just feels like home," Clarkson began. "Sometimes when we meet our heroes, it doesn't always pan out how you hope. But meeting Reba — being friends with her, and eventually becoming family — has been one of the highlights of my life, truly."
Already feeling all the feelings? There's more. Clarkson, choking back tears, concluded her speech by saying: "Thank you so much for listening to me vent as an artist. Thank you so much for comforting me on the phone through my tears, like a friend. And thank you for being a really rad grandma for my kids."
Then she belted – and we mean belted – McEntire's 1990 hit "Fancy."
McEntire bounced along as Clarkson completely slayed the song and then jumped up to give her daughter-in-law a standing ovation when she was done. "Thank you," Clarkson said. "I hope I did you justice!"
The powerhouse singer really doesn't haven't to worry. Her mother-in-law has already expressed how much she loves her, as both a family member and a performer.
"Kelly and I got to tour together in 2008, it was one of the most exciting, fun tours I've ever been a part of… you know, I love her to pieces," McEntire told The Talk back in April. "She's been one of my best friends since I met her in 2002, now she's my daughter-in-law. She's a wonderful person, big-hearted, always full of joy and laughter."
Are you suddenly craving a whole lot more Kelly Clarkson/Reba McEntire content? Please enjoy the gloriousness of their duet singing "Does He Love You" at the ACMs and prepare to sink into a beautiful, pitch perfect state of bliss.
We'll just be over here patiently waiting for our invite to Kelly and Reba's family Christmas next year.