Country Star Craig Morgan Sings Beautiful Song About His Late Son
by Cassandra Stone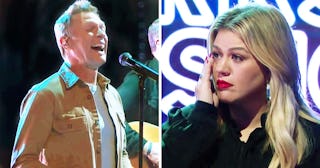 The Kelly Clarkson Show/Youtube
Country singer Craig Morgan lost his son in a tragic accident three years ago
Country singer Craig Morgan was a guest The Kelly Clarkson Show yesterday, where he performed his new single titled "The Father, My Son and the Holy Ghost." The new song, which Morgan wrote and produced, honors his late son, who passed away after a boating accident in July 2016 at the age of 19. And there wasn't a dry eye in the house while he sang.
Blake Shelton, Eva Mendez, and Kelly Clarkson were all hit by the weight of the emotional song, because it's as beautiful as it is heartbreaking. Grab a Kleenex if you can, because it's a doozy.
Morgan's son, Jerry Greer, went missing on July 10, 2016, after a tubing accident on Kentucky Lake in Tennessee, near the family's home. Jerry was being pulled along behind a boat when he went under, and although he was wearing a life jacket, he did not resurface. After a massive search, his body was found late the following day.
As Morgan finished his song, his voice cracked with emotion while belting out the last lines:
In the mornings I wake up, give her a kiss, head to the kitchen
Pour a cup of wake-me-up and try to rouse up some ambition Go outside, sit by myself but I ain't alone I've got the Father, my son, and the Holy Ghost One day I'll wake up and I'll be home With the Father, my son, and the Holy Ghost
Heartbreaking. And everyone in the audience as well as Clarkson, Shelton, and Mendez, were very visibly moved by the words and the grieving father's performance.
In an interview with Taste of Country earlier this year, Morgan says the family's faith helped get them through the immediate period after their heartbreaking loss.He says he found himself turning not to music, but to carving wood to process his grief. The wood carving turned into a new project for the whole family — they recently opened a store called the Gallery at Morgan Farms in downtown Dickson, Tennessee, to sell some of his hand-carved items. The store and the family's story are featured as part of Morgan Family Strong, which airs on UP TV.
His wife, Karen Greer, tells Taste of Country she relies on faith when things get truly tough. "I think we, as a family, hope that the viewers get the essence of faith and that you can do it, you can pull yourself together and make something good, and do something good for the world."
This article was originally published on