Clear Your TV Viewing Schedule, Because Kelly Clarkson Is Getting A Talk Show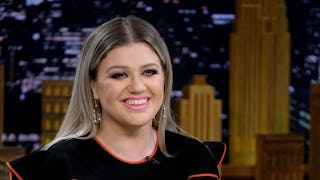 Image via Jamie McCarthy/Getty Images for NBC
First came Oprah, then came Ellen, and now? Kelly Clarkson
Kelly Clarkson is having one heck of a good year. She's still the badass pop superstar, body positive queen and super relatable mom we love, plus she dominated her first season as a coach on The Voice. And now? She has even more good news (which is also good news for all of us, TBH).
Clarkson is getting her own talk show.
Seriously, get ready to set your DVR, because you know you will be tuning in for this like it's a religion. Clarkson announced the upcoming show during an appearance on The Tonight Show.
Also, the way she just casually drops that news, and host Jimmy Fallon reacts pretty much the same way we all would: by freaking out. In her announcement, Clarkson revealed she's already shot a pilot for the show, and that it will air right before Ellen. Other than that, details are a little scarce right now. But don't think that'll stop us from blocking out that hour on our schedules and making plans to tune in, because Clarkson, who is sweet, hilarious and endlessly relatable, is perfect for this job.
"I love talking," she joked. "It's kind of, like, my favorite pastime."
She continued, "My show's actually going to be a little different from anything that's been on, just because I'm still touring… My band is on the show with me and we sing every day on the show. On the pilot, I got people to sing with me. It's very musical."
Sign. Us. Up.
Some other things we're sure we'll see on Clarkson's new show: Charity, because she's one of the most giving celebs out there. Her kids, because she's so proud and open about being a mom. And just a ton of down-to-earth humor and memorable guests, because would you expect any less from her?
We've come a long way from American Idol, and things just keep getting better for Clarkson.