Kelly Clarkson's Talk Show Will Take Over Ellen's Time Slot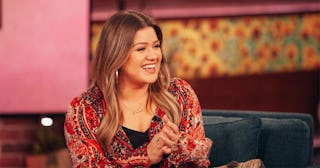 Weiss Eubanks/NBCUniversal
Kelly Clarkson has been waiting a lifetime for a moment like this — and it's finally here!
Ever since Ellen DeGeneres announced that she'll be ending her long-running talk show in 2022, daytime TV fans have had one question on their minds: Who will replace her? Well, the answer is finally here — NBC has announced that when Ellen leaves the air, they plan to fill her time slot with (drum roll, please)… Kelly Clarkson! Honestly, is there a more perfect replacement?
Clarkson will move into Ellen's coveted time slot beginning in Fall 2022. TBH, this feels like kind of an upgrade to me. After all, Ellen decided to end her show amid intense backlash after many of her old and current employees came forward about her show being a toxic environment. And then there's Clarkson, an unproblematic queen with the voice of an angel. You love to see it.
Clarkson's Emmy-winning, hour-long show is currently in its second season, but the former American Idol winner has become a daytime favorite, even in that short amount of time. Her show was just renewed in December for two more seasons, which will run through 2023.
"We look forward to Ellen DeGeneres' 19th season paired with Kelly Clarkson for what is sure to be a blockbuster year," Valari Staab, president of NBCUniversal Local, said in a statement. "By 2022, 'The Kelly Clarkson Show' will be the star of our daytime entertainment schedules and an asset to our early afternoon newscasts."
Tracie Wilson, executive vice president for NBCUniversal Syndication Studios, added, "Kelly and our entire production team put their heart, intent and incredible passion into making a show that resonates with people of all ages, cultures and backgrounds. We're working on some big plans for season 3 and are looking forward to becoming the premier show in daytime for years to come."
Earlier this month, DeGeneres made her first public statement about the end of her show sharing that she notified her staff on May 11, and that she would talk about it with Oprah on the May 13 episode of Ellen. She told THR, "When you're a creative person, you constantly need to be challenged – and as great as this show is, and as fun as it is, it's just not a challenge anymore."
Since Ellen announced the end of her show, fans have been speculating about who might be tapped to replace her on NBC's daytime schedule. Many people guessed that it might be Tiffany Haddish, since she's already filled in for Ellen as host of her show on numerous occasions. But I don't think there could be a more perfect pick than Clarkson, who is somewhat new to hosting a talk show, but has been absolutely crushing it nonetheless. This seems like such a fantastic opportunity for her, and I'm so excited to see what the future now holds for one of America's all time favorite stars.