Kelly Clarkson Admits Eating Clean Is Expensive As Hell
by Julie Scagell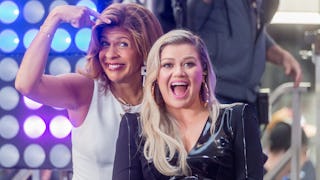 Image via Getty Images/ Mark Sagliocco/WireImage
Clarkson revealed on Today she's lost 37 pounds through clean eating
Kelly Clarkson's all about being real. The singer, songwriter, and mom of two is always the first to tell it like it is — whether it's the industry, politics, or being a working mom, she's endeared herself to fans because of her candid personality. When she co-hosted the Today Show this week, she was up to her usual truth-telling — talking weight loss and health issues she's suffered from for some time.
Clarkson and host Hoda Kotb were dishing on all things aging and the singer admitted she has no plans for Botox anytime soon. "I'm gonna be just like a Shar-Pei," she says of the fact that she'd rather be wrinkly than shoot chemicals into her face. Then Kotb pointed out the obvious — Clarkson's new, slim figure.
The 36-year-old singer revealed that the weight loss has come as a side effect after reading The Plant Paradox, a book that she says is all about "understanding food and understanding what we do to food," as a society with antibiotics and hormones. Clarkson also shared that she's been dealing with an auto-immune disease and thyroid problem since 2006.
"I don't work out. I mean, I should, [for my] heart and stuff. I do wine instead," Clarkson joked of her 37 pound weight loss in recent months. "Honestly, it's the same stuff you eat, I just use different ingredients," she continued. "I still have, like, cake. Like, literally, I still have everything the same as I did, even, like, fried chicken, but I use, like, casoid flour, tapioca, or almond flour. And I use, like, non-hormone chicken."
It's her tell-it-like-it-is attitude that makes us love her even more. The Grammy winner has never been one to shy away from talking about her weight. For her, the issue rarely lies with how we feel about ourselves but about how other people's perceptions too often play a role. "No one actually cares about your health. They just care about aesthetics," Clarkson said. "It's when I'm fat that I'm happy. People think, Oh, there's something wrong with her. She's putting on weight. I'm like, 'Oh, no! I'm sorry, but that represents happiness in my emotional world.' For me, when I'm skinny is usually when I'm not doing well."
But it seems this time for Clarkson, it's more about tackling a longstanding health issue than anything else. "Here's the best part, y'all. It's not even the weight. I mean, I know the industry loves the weight gone, but for me it wasn't really the weight, for me it was [that] I'm not on my medicine anymore," she said on Today. "My blood work came back and I haven't been on my medicine since, like, February."
But Clarkson recognizes the this diet isn't for everyone — not because it doesn't work, but because it's incredibly expensive to maintain.
"Honestly, I'm going to be real with you. It's really expensive to do. I wish the government would really back humanity on this because it's really, really hard to find [ingredients]," she said. "I was poor growing up, there's no way my family could have afforded this. It helps out so much with health. Like I said, my auto-immune disease is, like, gone. And I'm, like, 37 pounds lighter!"
Leave it to Clarkson to recognize how fortunate she is and advocate for others. Get it, girl.
This article was originally published on