Kelly Clarkson Nails Why Moms Shouldn't Feel Guilty For Not Always Being There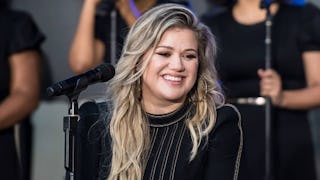 Image via Getty Images/ Gilbert Carrasquillo
Kelly Clarkson performed on TODAY and got real about motherhood
If there was ever an anthem to unite all of us working mothers – this would be the one. Kelly Clarkson could sing it and we would all feel our mommy guilt instantly melt away.
While performing a song from her new album on TODAY, she also took a time out to host a Facebook live chat with anchor Hoda Kotb. Clarkson is a busy mom to four kids: toddlers River Rose and Remy, plus two older stepchildren. She's also currently on the road touring. "When you work you miss things," she says.
She explains the things she misses: her youngest child hasn't said "mama" yet. At least not to her yet.
"I'll look at him and go 'mama,' and he'll go 'dada,'" she says laughingly. "And then (later) my nanny and his grandma said, "Oh, he said mama!"
She lamented that she does miss those milestones sometimes, which his hard. But she is consistently there for them and present in their lives. She may catch some things, and she may not.
"It's hard to be a really good mom and a really good person at your job," she says. "I don't want to be one of those pop star moms that doesn't see their (kids). … I want to be there."
Then she dropped a major truth bomb that any working mom could totally relate to, and maybe even take solace in.
"I'm not going to be able to be there for everything, and that's OK, because I'm showing my daughter and my son and our kids that you can do both and achieve great things," she says.
You can almost hear the collective sigh of relief come from mothers all across the land. We can't be there for everything, and really, we shouldn't be expected to. Either way, it's OK. Our kids will be OK.
This isn't the first time the star has shared her honesty about motherhood. She got refreshingly real about not liking pregnancy, she's not here for body-shamers, and the same goes for mommy-shamers who tried to give her shit about feeding Nutella to her kid.
Clarkson is spot on about many things in motherhood. Basically, she's like your super real BFF, or the one you desperately want and need.
Because being a working mother is hard. The level of mental acrobatics and multitasking is astronomical. Beyond just the logistics of it all, it takes a toll on you emotionally. Of course, no one wants to miss great moments with their kids. But Clarkson's words are a good reminder that we can work and be there for our families in whatever ways work for us.