Kelly Clarkson's Daughter Got Gifts From Wonder Woman And It's So Cute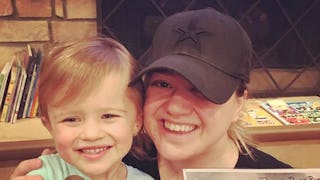 Image via Instagram/Kelly Clarkson
Gal Gadot sent a package of goodies for Clarkson's little girl
It's probably safe to say that millions of women have a massive girl crush on Wonder Woman star Gal Gadot. She's smart, kick-ass, brave, and takes no shit. But in case you weren't already sold, let what she did for Kelly Clarkson's little girl melt your heart and turn you into the Gadot devotee you were always meant to be.
Clarkson shared a photo and message on Instagram thanking Gadot for sending her three-year-old daughter, River Rose, some Wonder Woman gear that included a personalized photo from the star herself.
https://www.instagram.com/p/BcDw3kqBxGX/
The caption reads, "THANK YOU SO MUCH @gal_gadot for the awesome presents for River Rose!! She LOVES them! You've made a little girl very happy."
Is this life? Two of our favorite bad-ass celebrity moms appear to have a fun friendship, and not only that, one plays an actual superhero and is inspiring the other's little girl? This is the world we deserve, you guys. A world where Gal Gadot and Kelly Clarkson are BFF and send each other gifts about being strong and amazing women.
The inscription on Gadot's signed photo of herself as Wonder Woman reads, "Dearest River Rose, I wish you all the best. Your momma is a true Wonder Woman."
Seriously, be still our hearts. Little River Rose will have this photo the rest of her life and can look back one day on how even Wonder Woman acknowledges that her momma is a fantastic human. We love this entire scenario with our whole hearts.
In fact, we love everything Clarkson shares about her life as a mom. From her frequent Instagram posts about River Rose and her one-year-old brother Remington, it's clear that she's One Of Us. Now that we've seen her squeal over Wonder Woman swag the exact way any woman would, we love her even more.
Might we also suggest Gal Gadot keep this up — sending cool care packages to celebrity kids that their parents can then let us peep via social media. We feel like we need this way more often.