Mom Shares Toddler's Heart Surgery Journey Using Photos Of His Scars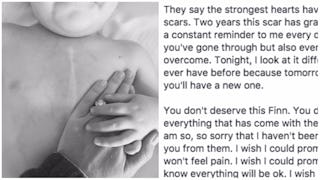 Image via Kelly Blumenthal
This family is sharing a message of hope after son's open heart surgery
There's a reason most parents say "I just want a healthy baby" when asked if they'd prefer a girl or a boy. The concern over our children's well-being begins before they even enter this world and it never, ever stops. One family learned having a child born with a life-threatening illness not only tests your resolve, but serves as a reminder that every single day truly is a gift.
Finn Blumenthal was just a baby when he had his first open heart surgery. He was born with congenital heart disease which can lead to myriad health problems and in some cases, death.
His first surgery was a success, so his parents, Kelly and Michael Blumenthal, were in complete shock to learn that just two years later, Finn would require another open heart surgery to save his life.
Finn's journey has been documented through several photos, but the ones that really hit home are the images of the surgery scars.
"They say the strongest hearts have the most scars," his mom Kelly wrote on the Prayers for Finn Facebook page before Finn's surgery.
"I can promise you that I will light up your world as bright as I can in that hospital room. I can promise you that I will do everything in my physical power to have you remember the sharks in your crib and not the tubes in your chest. I'll make a fool out of myself in front of every single doctor and nurse just to have you smile. I'll scream for you, cry for you, I will fight for you. This isn't going to be easy, but I can promise you it will be worth it."
"We didn't think we would see Halloween or graduations or birthdays," Blumenthal told TODAY Parents. "We thought we were on borrowed time." It turns out Finn's heart was failing and they needed another miracle operation fast.
Two weeks ago, two-year-old Finn endured a second open heart surgery, and the outcome was exactly what this family had been hoping for — Finn made it through his surgery with flying colors. "We are so incredibly grateful for the love and support surrounding our little warrior," Blumenthal told Scary Mommy.
Dr. Thomas Spray, Finn's surgeon, even placed his own hand on Finn's chest moments after his second surgery.
"We knew our son needed saving, but after the words 'the heart repair was a success' sunk in, it was apparent that our entire family needed saving too. Finn was given the gift of life and with that, ours were restored as well."
In an updated Facebook post, Blumenthal shared a picture of Finn's tiny chest. In the middle was a scar, one his mom was able to look at in an entirely new light after years of worry and fear their son would not make it another day.
"Today, your new team removed your bandage and I was able to see life, light and hope," she wrote. "I was able to see stability, longevity, birthdays, Christmases, weddings, graduations. For the first time, I was able to look at your scar and not feel pain and not feel guilt that you've been robbed of so many life opportunities."
Although Finn may require additional surgeries in the future, the Blumenthal family is concentrating on every single minute of every day. They just shared a video of Finn for all those who have been following his story — a video of a little boy breaking out some pretty serious dance moves, his parents laughing in the background. Exactly as life should be.