Kelly McGillis Snubbed For 'Top Gun' Sequel Because She's Dared To Age
by Julie Scagell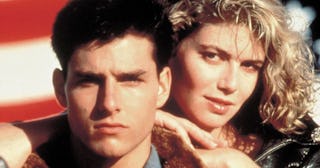 Sunset Boulevard/Getty
Cruise and Kilmer will, however, be in the sequel
By now, you've likely heard that the beloved movie, Top Gun, is getting a sequel, Top Gun: Maverick. While there are many fan favorites coming back including Tom Cruise and Val Kilmer, others, sadly, are not (RIP Goose). In fact, when Kelly McGillis who played the lead actress in the 1986 hit was asked if she was returning, she said she was never even contacted.
"Oh my god no. They did not, nor do I think they would ever," McGillis told Entertainment Tonight. "I'm old and I'm fat, and I look age-appropriate for what my age is, and that is not what that whole scene is about."
Kelly McGillis is 62 years old, just a few years older than Tom Cruise, 57, and Val Kilmer, 59.
McGillis played Cruise's love interest, astrophysicist and training school instructor, Charlie Blackwood, wooing audiences with her gorgeous smile and no-nonsense attitude. In the Top Gun: Maverick sequel, Jennifer Connelly will be playing the role of Maverick's new love interest. Connelly is just 48. Well. At least she's not 28?
This isn't the first time an older actress has been replaced by someone younger and more "appealing" to audiences though male actors are continuously given leading roles regardless of their age. "The age thing is insane," actress Emma Thompson told Vulture. "It was ever thus. I remember saying years and years ago, when I was 35, that they'd have to exhume somebody to play my leading man … Nothing's changed in that regard. If anything, it's got worse."
Anne Hathaway, who is just 36 years old, also said she's been passed up for roles because of her age. "I can't complain about it because I benefited from it," she told Glamour UK in 2015. When I was in my early twenties, parts would be written for women in their fifties and I would get them. And now I'm in my early thirties and I'm like, 'Why did that 24-year-old get that part?'" She said this in 2015 — when she was at the elderly age of 32.
For her part, McGillis doesn't seem to mind not being included one single bit. "I'd much rather feel absolutely secure in my skin and who and what I am at my age, as opposed to placing a value on all that other stuff," McGillis said.
When asked about why she decided to leave the Hollywood life, McGillis shared: "I think just my priorities in life changed. It wasn't like a major decision that I made to leave, it was just that other things became more important. I love acting, I love what I do, I love doing theater, but I don't know. To me, my relationships to other people became far more important than my relationship to fame."
The movie definitely isn't going to be the same without her and honestly, it would've been nice seeing them together again onscreen instead of replacing her with someone nine years Cruise's junior, continuing to feed into the stereotype that men need a younger woman on their arm to feel complete.
When asked if McGillis would consider attending the premiere of Top Gun: Maverick when it hits theaters June 26, 2020, she said: "You know what, I don't know how to answer that because one, it hasn't happened." But if it does, you can best believe she won't be changing any major life plans to attend. "If and when it did happen", she said, "I would have to assess where I am, what I'm doing, what's going on … I can't project what I would or wouldn't do in the future. I have no idea because I don't know where I'll be."
This article was originally published on