Kelly Ripa's Daughter Saw Her Parents Having Sex And The Story Will Make You LOL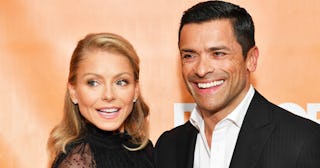 Dia Dipasupil/Getty
Lola Consuelos caught her parents goin' at it and thankfully, everyone lived to tell the tale
We've all been there. Whether we were the ones walking in or the ones being walked in on, at some point parents get caught doing… it. And it's never pleasant for anyone involved. But sometimes, after several decades pass, you might be able to muster a laugh about it. Well, unless you're Lola Consuelos and your parents are Kelly Ripa and Mark Consuelos.
Because she was not pleased about interrupting her parents' coital sesh, according to Ripa's hilarious account of the incident. And honestly, at 18 years old, we can't even blame her. You know what's happening in there at 18: parent sex. And parents can't explain it away or paint over the details with their Big Fat Liar Brush, either.
Here's Ripa, with her husband, Mark, aptly filling in as guest co-host for the day, sharing the story of what went down in their house on Father's Day morning.
"I'm going to be honest: I was not in the mood," Ripa admits. She explains her in-laws and her three children were all downstairs preparing to enjoy a family holiday brunch. "There was a house full of people, my in-laws were waiting to eat!" Kudos to Kelly Ripa for going for it anyway. Doing it in a house full of relatives takes some balls.
"I could tell," Consuelos jokes. "You were going through the motions!" Mmmhmm. Whatever, pal. But the best part is when Ripa replays how the "catching" unfolded.
As she and Consuelos were doing the deed, Lola apparently interrupted by barging in their room. She made "eye contact" with Ripa before leaving the room immediately. "She shuts the door and you hear, 'You just ruined my birthday! And my life! And I used to see in color and now everything is gray.'"
Oh, did we forget to mention that Father's Day was also Lola's birthday? Yeah. Oof. But man, what a stellar delivery of teen angst and drama — honestly, it's superb.
Things didn't get much better as Ripa and Consuelos joined the family for brunch downstairs. She says the married parents tried acting cool, but Lola wasn't having it. "She's like, 'You're disgusting,'" Kelly says. "She goes, 'You guys have no chill. You think you're 20, but you're not.'"
https://www.instagram.com/p/BtbcorthOjh/
At that point, the other two Consuelos children — Michael, 21, and Joaquin, 16 — chimed in and shared all the times they've walked in on their parents gettin' busy. Hey, good for them. Seriously. My parents hated each other so I only had to endure this horrifying rite of passage once when I was 7, but that was more than enough to be seared into my brain for all eternity.
https://www.instagram.com/p/BgHlMjgDrQE/
"Nobody knocks in our house!" Ripa says exasperatedly. Hate to break it to ya, Kel, but nobody knocks in anyone's house — not the children, anyway. Though when she returned to her parents' room late that night, Lola made sure her parents heard her knock. "It was like a fire department knock, like boom, boom, boom," Kelly says.
As long as the knock was the only thing going "boom boom" that time, it's all good.
This article was originally published on