Pregnant Meteorologist Claps Back At Viewer Who Called Her Wardrobe 'Disgusting'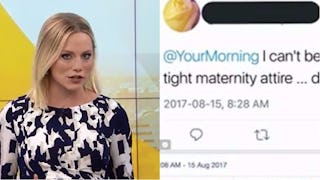 Image via YouTube/Your Morning
Don't mess with a pregnant woman. Ever.
If you are a woman, chances are about 100 percent that you have been judged on your appearance at some point in your life. We are too fat, too skinny, too tall, too flat chested – too, something. Apparently we can even be too overtly pregnant, according to one viewer of a Canadian news cast.
It all started earlier this week when Canadian meteorologist Kelsey McEwan decided to show up to work all pregnant and wearing clothes and stuff. McEwan, who is eight months pregnant, was giving viewers the daily forecast when a tweet came in from an angry, bitter soul who could NOT EVEN HANDLE IT for one more second without their opinion being known.
"I can't believe the skin tight maternity attire," they wrote. "Disgusting."
McEwan decided to give this viewer a piece of her mind because, well, she's eight months pregnant and oh hell no. "When what I'm wearing is what you find disgusting in this world — this week, in particular — you need to check your priorities," McEwan said on-air Wednesday morning. "You know what is disgusting? Not my wear, but racism and hate and bullying."
It's uncertain how much clearer women need to make it – a woman's body is never anyone else's concern. How we choose to dress, carry ourselves, dress up, dress down, tattoo, pierce, and outfit ourselves while pregnant is not up for debate. Period. We do not owe anyone anything, least of all a total stranger sitting in their living room, getting their weather forecast and trying to decide how many puppies they are going to kick that day.
"I'm a firm believer that my body and your body is no one's business but your own," McEwan continued. "Your body is not for anyone to talk about … it is not anyone else's business but your own."
McEwan did note that most of her viewers have been nothing but kind, complimenting her on her growing belly. And though she appreciates it when people remark in a positive way, she believes our self-worth should come from "you and you alone."
"What people say — if you let it build you up, the criticisms are going to tear you down — so let's find other ways to talk to each other," McEwan said. "We're better than this and we are so much more than how we look."
McEwan posted the clip on Instagram after the show , saying "Thank you for reaching out, sharing your stories, and sharing the message that we can do better. Your body is YOURS. Your self worth is determined not by what others think, but of what you think of yourself."
"Enough is enough," McEwan wrote. "We can do better."