Kendall Jenner Slammed For Blowing Out Birthday Candles In Waiter's Face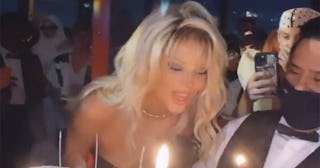 Kylie Jenner/Instagram
Kendall Jenner is under fire for hosting her 25th birthday during the COVID-19 pandemic
The COVID-19 pandemic has put a major damper on 2020. Due to the highly infectious nature of the virus, the majority of Americans have dramatically changed their lives, cancelling big parties, avoiding non-essential travel, and even opting for low-key holidays over major celebrations with family and friends. However, one famous family is currently under fire for partying like it's 2019 — the Kar-Jenners.
Over the weekend, model Kendall Jenner celebrated her 25th birthday a few days early with a Halloween-themed bash. As photos spread around social media, many people noticed that many of the partygoers, some who happened to be famous celebrities, weren't wearing masks. Obviously, the internet had major feelings about it.
In a video taken from the bash, first posted on Kylie's Instagram stories, Kendall, dressed as Pamela Anderson from the box office bomb Barb Wire, blew out the candles of her cake while her pals — including Saweetie, Doja Cat, The Weeknd, and Winnie Harlow looked on. The main issue? Nobody really seemed to be wearing a mask. In fact, the only person who happened to be in a protective face covering in the candle blowing video was the server holding the cake, who appears to be leaning back as she blows. ICYDK, the virus is predominantly spread via tiny droplets released from the mouth when talking, singing, spitting, or, yes, blowing.
"Ok Kendall Jenner blowing out candles as a masked waiter holds her cake and tries to move out of the way was actually the scariest thing I saw on Halloween," a Twitter user who shared the video clip commented.
Apparently the Kar-Jenner family didn't want photos and videos from the bash circulating on the internet. One of the photos actually shows signs posted around the party encouraging people to "take all the photos you want, but please do not post on social media of any kind."
Many people were simply offended by Jenner throwing a party during an international health pandemic — especially since the US is currently breaking records in regards to infections. Others were simply confused that a party of this size was even allowed.
Just days before Kendall's controversial birthday bash, her older sister, Kim, faced her own little PR nightmare for throwing a huge bash in the tropics for her 40th birthday. In a series of tweets, the reality star explained that she opted to celebrated her monumental birthday on a private island.
"40 and feeling so humbled and blessed. There is not a single day that I take for granted, especially during these times when we are all reminded of the things that truly matter," she wrote. "For my birthday this year, I couldn't think of a better way to spend it than with some of the people who have helped shaped me into the woman I am today."
Her tweets, which became quite the hot topic on the internet, kept on going.
"Before COVID, I don't think any of us truly appreciated what a simple luxury it was to be able to travel and be together with family and friends in a safe environment," she wrote. However, "After 2 weeks of multiple health screens and asking everyone to quarantine, I surprised my closest inner circle with a trip to a private island where we could pretend things were normal just for a brief moment in time."
"We danced, rode bikes, swam near whales, kayaked, watched a movie on the beach and so much more. I realize that for most people, this is something that is so far out of reach right now, so in moments like these, I am humbly reminded of how privileged my life is. #thisis40."
In case you are thinking it is okay to host a huge birthday party or travel with a large group of people overseas, it's not per the Centers for Disease Control and Prevention. "Travel increases your chance of getting and spreading COVID-19. Staying home is the best way to protect yourself and others from COVID-19," they write on their website. As for parties, they suggest only attending gatherings held outdoors, wearing masks at all times, social distancing, and limiting the number of people in attendance.
This article was originally published on