Kendra Wilkinson Shares Stretch Marks Selfie: 'Look What My Babies Did'
by Maria Guido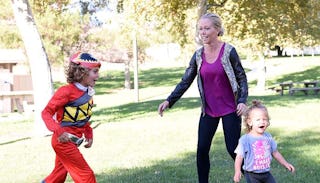 CALABASAS, CA - OCTOBER 26: Kendra Wilkinson plays with her kids Hank Baskett Baskett IV (L) and Alijah Baskett (R) in Power Rangers Halloween Costumes on October 26, 2015 in Calabasas, California. (Photo by Angela Weiss/Getty Images for Saban Brands)
Kendra Wilkinson posts stretch mark selfie
Kendra Wilkinson took to Instagram on Mother's Day to give a little "thank you" of sorts to her kids. The star of "Girls Next Door" and former Playboy Playmate posted a refreshingly honest selfie that highlighted her well-earned stretch marks.
"Look what my 2 babies did… They made me happy," she captioned the post.
All we generally see are women "bouncing back" from pregnancy as if their bodies never housed a human at all. There's nothing wrong with that, but it's also good to see the battle scars some of us carry as well. There's nothing wrong with a body changing after childbirth. It's natural and normal, and maybe we should all stop trying to hide it.
Scattered amongst the landslide of positive reactions she received were a few who felt like she should "fix" herself, since she has the money to: "She is a very pretty woman. Not being rude but just that she has the money to correct it if she so choses. Most of us can't afford to do it," wrote one commenter, echoing the feelings of several others. She's not "broken." There's nothing to "fix."
Women should do whatever they need to do to feel comfortable in their body again once they give birth: including embracing their new one. Did anyone ever stop to think that's an option? Just embracing your new, changed body?
Wilkinson is a thin, gorgeous television star, and even she has her "imperfections." Why should we ever beat ourselves up over parts of our body rarely anyone even sees? We age, we have babies, gravity exists — things will not stay the same. And that's okay. It's nice to see someone embracing that and being real about it.
You just have to love her.
This article was originally published on