Legendary Country Music Star Kenny Rogers Dies At 81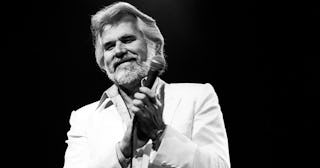 Paul Natkin/Getty Images
Kenny Rogers died surrounded by his family
Kenny Rogers, whose music spanned generations and touched millions of fans, has died at the age of 81 from natural causes while in hospice care.
Rogers' family announced his death on his verified Twitter account. "Kenny Rogers left an indelible mark on the history of American music. His songs have endeared music lovers and touched the lives of millions around the world," a statement posted by his publicist Keith Hagan said.
Rogers was inducted to the Country Music Hall of Fame in 2013 after a record-breaking career. He had 24 No. 1 hits and sold more than 50 million albums in the U.S. alone. Rogers was a six-time Country Music Awards winner, three-time Grammy Award winner and was the recipient of the CMA's Willie Nelson Lifetime Achievement Award in 2013.
His hits like "Lady," "Lucille," "We've Got Tonight," "Islands In The Stream (which he famously sang with Dolly Parton)," and "Through the Years," are songs many of us grew up listening to, bringing comfort and joy to all who followed him. His 1978 song "The Gambler" is in a category all its own, leading him to play that character in many films inspired by the lyrics.
Dolly Parton shared an emotional message for Rogers following news of his death.
"Well, I couldn't believe it this morning when I got up and turned on the TV, checking to see what the coronavirus was doing, and they told me that my friend and singing partner Kenny Rogers had passed away," Parton said in the video she posted to Twitter.
"I know that we all know Kenny is in a better place than we are today. I'm pretty sure he's going to be talking to God some time today — if he ain't already — he's going to be asking him to spread some light onto this darkness going on here," Parton said, adding, "I loved Kenny with all my heart and my heart's broken. A big 'ol chunk of it has gone with him today. I think I can speak for all his family, his friends and fans, when I say that I will always love you."
The Country Music Association also tweeted in response to Rogers' passing.
"Country Music has lost the great Kenny Rogers, who has forever left a mark on Country Music's history," they said. "His family and friends are in our thoughts during this difficult time."
Rogers told the Associated Press in 2015 of his career, "You either do what everyone else is doing and you do it better, or you do what no one else is doing and you don't invite comparison. And I chose that way because I could never be better than Johnny Cash or Willie or Waylon at what they did. So I found something that I could do that didn't invite comparison to them. And I think people thought it was my desire to change country music. But that was never my issue."
Rogers kept singing and touring through 2017 when he retired for health reasons. "I didn't want to take forever to retire," Rogers said in 2018, according to Variety. "I've thoroughly enjoyed this opportunity to say farewell to the fans over the course of the past two years on 'The Gambler's Last Deal' tour. I could never properly thank them for the encouragement and support they've given me throughout my career and the happiness I've experienced as a result of that."
Rogers is survived by his wife, Wanda, and his sons Justin, Jordan, Chris, and Kenny Jr. The family is planning a private service "out of concern for the national COVID-19 emergency," his family said.
This article was originally published on