Police Guard Kentucky Man With Coronavirus Who Refuses To Self-Quarantine
by Madison Vanderberg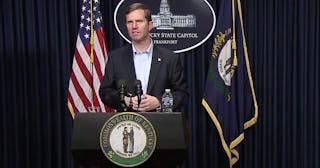 Kentucky Educational Television/Youtube
Kentucky man with coronavirus that refused to quarantine surrounded by police guards
As local governments around the U.S. are closing schools, businesses, and enacting curfews and concerned citizens are doing their part to self-quarantine and prevent the spread of COVID-19, one man in Kentucky who tested positive for coronavirus is refusing to stay quarantined, so the police had to stand guard outside his house and ensure he stayed inside.
On Saturday, March 14, 2020 the Lexington Herald Leader reported that a Kentucky man who tested positive for the coronavirus refused to self-isolate, so a Nelson County judge had to declare a state of emergency in order to send police guards to the man's house to make sure he stayed put. The patient is a 53-year-old man who tested positive at the University of Louisville, then left the hospital against medical advice.
"It's a step I hoped I never had to take, but we can't allow one person we know who has this virus to refuse to protect their neighbors," Kentucky Governor Andy Beshear said at a press conference (via Associated Press).
Kentucky now has 18 cases of coronavirus and Beshear added that "we've got to make sure that people who have tested positive… and simply refuse to do the right thing, do the right thing."
Although this is an example of someone with coronavirus blatantly refusing to self-quarantine, there are hundreds others boasting about their freedom and refusal to exercise social distancing practices.
When Alexandria Ocasio-Cortez encouraged young, healthy people to practice social distancing, one woman tweeted back, writing, "I just went to a crowded Red Robin and I'm 30. It was delicious, and I took my sweet time eating my meal. Because this is America. And I'll do what I want."
Others began to share images of crowded bars and restaurants and it was as if people specifically went out to crowded establishments in retaliation against social distancing recommendations.
Don't be like these people. According to the CDC, if COVID-19 is spreading in your community, stay home as much as possible and practice social distancing — it's the only way we can flatten the curve and help hospitals to have enough room and resources to care for the sick.
Information about COVID-19 is rapidly changing, and Scary Mommy is committed to providing the most recent data in our coverage. With news being updated so frequently, some of the information in this story may have changed after publication. For this reason, we are encouraging readers to use online resources from local public health departments, the Centers for Disease Control, and the World Health Organization to remain as informed as possible.