Golden Retriever Who Comforts CA Firefighters Is The Goodest Of Girls
by Madison Vanderberg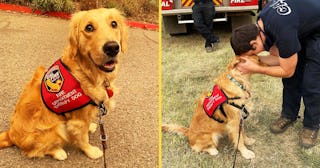 kerith_the_golden_retriever/Instagram
Kerith the therapy dog has become a fixture at the firefighter base camps amid ongoing California wildfires
The wildfires ravaging the West Coast are absolutely devastating and citizens of California, Oregon, and Washington are looking at another nearly two months of fire season. This is hard on the people who live here but especially hard on the firefighters who work round the clock to keep everyone safe. So who comforts the firemen and women? Kerith the golden retriever, that's who.
Popsugar reports that 2-year-old therapy dog, Kerith, and her owner Heidi Carman are a certified animal-assisted crisis response team and they've been traveling throughout Northern California to provide comfort to the first responders tackling the numerous wildfires.
Heidi tells Popsugar she and Kerith have spent some time visiting first responders at the Woodward Fire base camp in Marin County and the Creek Fire base camp in Fresno County. Heidi says they'll walk up and down the row of fire trucks, greeting anyone who needs some comfort. "[Kerith will] sit closely to the individual, sometimes sit on their feet and lean into their body in a way that says, 'I am here for you as long as you need me,'" Heidi shared.
Kerith is becoming such a beloved fixture around the base camps and firehouses that Heidi shared on Instagram how one San Francisco firefighter reacted when they saw Kerith.
"Yesterday when we saw you everyone was so excited I almost had to stop the truck and turn around so we could play with Kerith," Heidi says the firefighter told her.
"[Kerith] provides unconditional love and instant stress relief to first responders," Heidi writes on their GoFundMe. "She forms bonds with the firefighters by simply being herself: she greets with playful wiggles, adoring eye contact, and makes each person she meets feel important, special, and loved. The experience that Kerith is able to provide can be invaluable to individuals suffering from PTSD."
"Therapy dogs are helping change the stigma around mental health for first responders. Studies have shown that interaction with therapy dogs can provide both mental and physical health benefits," Heidi shared online.
I can't speak on behalf of the firemen and their reaction to meeting Kerith, but one time I hugged a Great Pyrenees therapy dog in the lobby of a hospital and it was honestly one of the most memorable days of my life. You can donate to Heidi and Kerith's GoFundMe page to support their goal of spending more time at the Marin County Fire Department and amongst the NorCal base camps throughout fire season.