This Man With Autism Is Offering Kids Sensory-Friendly Santa Visits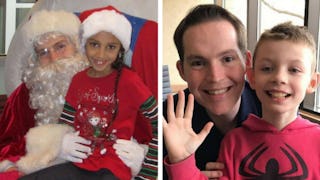 Images via Kerry Magro
A Santa just for kids with special needs
The holiday season is full of lights and noise and packed shopping centers — all of which can be extremely difficult to process for a child with autism or sensory-sensitivity. A visit to see Santa isn't always a possibility for the parents of kids with special needs, so one man decided to do something about it.
During the holidays, 29-year-old Kerry Magro, who has autism himself, plays Santa in autism and sensory-friendly settings for kids who otherwise wouldn't get to see the big man in red.
For the past three years, Magro and his nonprofit, KFM Making A Difference, have offered free visits with Santa in Jersey City, New Jersey. During that time, Magro estimates he has seen about 500 children.
In an interview with The Huffington Post, Magro explains that he understands the needs of these kids because he was a child with autism once, too: "Growing up with autism, I had challenges in meeting Santa in public places because I dealt with a lot of sensory challenges, so giant malls were never really an option for me."
At Magro's Santa events, he has a team of volunteers (which include an occupational therapist, a speech therapist, and a physical therapist) on hand to greet the kids in a toned-down, quiet setting. Up to eight children with autism or other special needs are allowed to sign up for a 30-minute slot, during which they can do arts and crafts, or talk to Santa, or just hang out — whatever they're comfortable with.
The visits are free but Magro does accept donations, which he uses to fund college scholarships for students with autism.
Magro described his approach in an essay for The Huffington Post: "Each child I meet has my complete attention for those few minutes. Each one of them has their own story, and every time I interact with them, I try to meet them where they are. Whether it's me sitting on the ground playing with toys with them or keeping my distance if they want or need space, I'm here for them to have an amazing holiday event."
What a fantastic idea, offered by an incredible man. We celebrate Magro's generosity and hope that his work will spread awareness, understanding, and compassion for those parents whose child is having a meltdown on the Santa line at the mall. Remember that they might be the overwhelmed child of parents who just want them to have the chance to experience everything the holiday season has to offer.
This article was originally published on