Pregnant Kerry Washington Slays The Emmys Red Carpet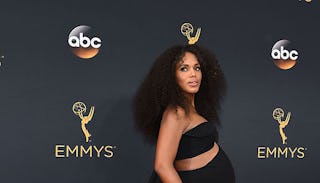 Image via ROBYN BECK/AFP/Getty Images
Kerry Washington hit the red carpet last night in all her pregnant glory
Kerry Washington hit the Emmys red carpet last night, and you could almost hear a "Okay, everyone can go home now," ring throughout the land. She was wearing a Brandon Maxwell cutout bustier gown.
There are just no words, so let's see some pictures.
I mean, come on.
And when she hit the stage to joke about the real-life story lines writers are tasked to hide (like her pregnancy), she looked even more amazing. She talked to The Hollywood Reporter about what it was like filming when she was pregnant the first time."I was going through this amazing physical transition, this physical journey of having a baby, that my character was not going through," said Washington. "I had to figure out how to be this woman while my instrument was changing and evolving every day. It was like seeing the keys on a piano jump around on a daily basis. It was tough for me to even maintain Olivia's walk because of the changes."
If you follow her on Instagram, you were also privy to some awesome selfies.
Like this one, with Kristen Bell — two women we absolutely love:
And this one with JON SNOW, I mean, Kit Harington. Yes, I know it's just a show.
Olivia and Fitz forever.
Thanks Kerry Washington, for once again proving that pregnant women are sexy as hell.
This article was originally published on