Kerry Washington Confirms Second Pregnancy On Red Carpet
by Maria Guido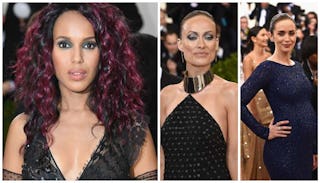 Kerry Washington pregnant with second child
Kerry Washington walked the red carpet at the Met Gala last night, and did the signature move that is code for YES WORLD, I'M PREGNANT. She cradled her belly in just about every shot she posed for.
This is the universal code for "I'm pregnant" — in case you didn't know.
This is baby number two for the Scandal star and her NFL player husband, Nnamdi Asomugha. Their first, Isabelle Amarachi is two years old and has been famously shielded from the public eye. "You know, I'm a really private person," she told a Page Six reporter. "I feel like at some point you will [see her], but for now it is what it is."
Kerry Washington stole the spotlight with her subtle pregnancy announcement on the red carpet (okay, she just touched her belly — whatever) but she was just one of a handful of stars who were probably cursing the invention of heels last night while walking the red carpet pregnant.
Here's a cute shot of Emily Blunt and Olivia Wilde, both expecting:
And Blake Lively in her first public appearance since confirming her pregnancy:
Oh, yes. We all looked and felt almost exactly like that in early pregnancy, didn't we?
They all look freaking incredible, but any woman who's been pregnant knows exactly what they're thinking in all of these shots: somebody get me my yoga pants and body pillow and set this bra on fire, please.
Congratulations to Kerry Washington. We look forward of months of exclaiming, How the hell does she still look like that?
This article was originally published on