Kesha Brought Grammys To Tears With Powerful Performance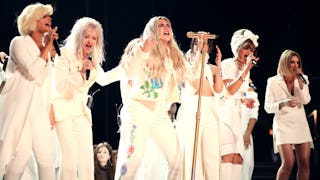 Image via Christopher Polk/Getty Images for NARAS
Kesha performed her emotional song "Praying"
Last night's Grammy awards included nods to the "Times Up" and "Me Too" movements with many attendees wearing white roses and using their stage time to bring important issues to light, but perhaps none were more powerful than Kesha's performance.
When the twice-nominated singer took the stage at Madison Square Garden last night for her performance at the 60th annual Grammy Awards, she was backed by a chorus full of women in suffragette white. They included stars such as Cyndi Lauper, Julia Michaels, Bebe Rexha and Andra Day, along with members of the Resistance Revival Chorus, a group of women who come together to sing protest songs. The song was Kesha's Grammy-nominated "Praying," the singer's comeback track off her first album in nearly five years.
And she brought down the whole damn house.
At times, her voice shook with emotion and partway through the performance, she was in tears. The song is about her long battle against label exec Dr. Luke (AKA, Lukasz Gottwald), who Kesha accused in 2014 of drugging and raping her along with verbally and emotionally abusing her for years. He's denied the allegations and in 2016, a judge dismissed her claims. The legal battle is now at a stand-still, but Kesha seems to be looking toward healing and forgiveness, if "Praying's" lyrics are any indication.
In the days leading up to last night's performance, the singer shed a little light on that healing process, calling the song "an emotional raw victory for myself."
After last night's show, she tweeted her appreciation for the chorus of women behind her and the support she's received.
She also included a lyric from the song: "after everything you've done I can thank you for how strong I have become."
The last few months have brought about a reckoning that needed to happen. From Harvey Weinstein to Larry Nassar, men in power who abuse women are falling one by one. Last night was one more moment of catharsis and bravery from a survivor, and seeing the chorus of women supporting her was unspeakably powerful. This is so far from over, and that's all thanks to those who are speaking out about abuse that simply won't be tolerated any longer.
As singer and actor Janelle Monae said last night in a speech condemning sexual misconduct and gender inequality before introducing Kesha, "We come in peace, but we mean business."