Kevin Hart Trolls The Rock With Hilarious Throwback Halloween Costume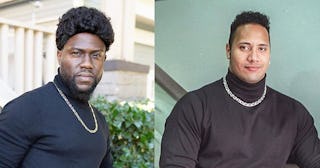 Kevin Hart/Instagram
Kevin Hart dressed up as a throwback version of The Rock's infamous fanny pack pic and it's too good
Dwayne "The Rock" Johnson and Kevin Hart are delightfully opposite Hollywood BFFs famous for trolling each other on their respective Instagram accounts. Seeing them brutally taunting each other on the regular is a timeline highlight, but after Hart sustained major injuries in a car crash back in September, their usual silly posts came to a stop as he spent time recovering. Now, he's back — and messing with Johnson in the most hilarious possible way by recreating his meme-worthy fanny pack photo from the mid 1990s.
Hart posted a photo of himself in costume right next to Johnson sporting the original, and we've died. This is too much. "This shit makes me laugh," says his caption. Us too, buddy.
Hart nails the look up to and including the napkin under his elbow, which Johnson inexplicably had in the original pic. Why, though? Were the stylists concerned he'd stain that sweet black turtleneck? The whole vibe is worthy of the viral status the photo has gained in recent years. Considering who Johnson is now (super mega hot actor and dad) the gloriously dorky pic is made even better.
But there's more hilarity than just this amazing side-by-side photo. The buddies made a little video clip (that also promotes the sequel to their movie, Jumanji) that expands on the twinsie fanny pack photo. In his caption, Johnson writes, "Of all the things my best friend @KevinHart4real can dress up as for Halloween. He comes back from injury to stick me with this dirty, rotten, HEARTLESS LOW BLOW. 💔😂 Love ya brother. Good to have you back."
In the clip, Johnson asks Hart why he's dressed like that and his reply is the sickest of burns. "All you gotta do is go to the costume store and say 'Make me look stupid,'" he says. The pair then argue about how Johnson stood in the original photo and sorry, but Hart's reenactment pose got it all right.
Johnson then refuses to give his BFF the giant-sized candy bars he doled out to an adorable crew of trick-or-treaters just moments before and instead hands him a bite-sized bar. Totally appropriate considering Hart's shortness is one of The Rock's favorite things to mock.
In all seriousness, Johnson seems very pleased to see his pal back in usual form, even if it means he's being relentlessly trolled. Hart recently shared footage from the days after the September car crash that left him severely injured. ""Basically what you realize is that you're not in control. No matter how much you think you're in control, you're not in control," Hart said at the beginning of the video, as video of the crash aftermath played. "At the end of the day, it can all be over."
It seems that the crash has given him newfound gratitude for life. "Don't take today for granted because tomorrow is not promised," he says. Getting back to having fun with his BFF is clearly on his "seize the day" agenda, and for that, we're all grateful.
This article was originally published on