Kevin Smith Tweets About His 'Massive Heart Attack' From Hospital Bed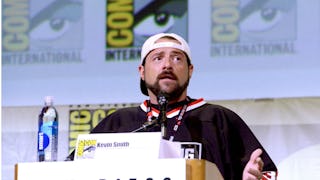 Image via Albert L. Ortega/Contributor/Getty Images
Kevin Smith in the hospital after surviving 'widow-maker' heart attack
Actor Kevin Smith reassured fans that he's "still above ground" after suffering a massive heart attack Sunday.
Smith, who's 47, canceled the second standup comedy show he was taping yesterday to go to the hospital, where he says doctors diagnosed him with a complete blockage of his left anterior descending (LAD) artery, also known as a "widow-maker" heart attack.
If you were a teenager in the '90s, you were probably obsessed with Smith's movies like Clerks and Mallrats. But none of us are teenagers anymore, and Smith has made no secret of his struggles over the years with getting healthy. Two years ago, he proudly showed off his 85-pound weight loss. He also told Men's Health at the time that he was motivated to change his lifestyle by an anti-sugar documentary he saw. "So then I watch this documentary last year, and I was, like, 'Oh, man, um, I really don't wanna die' – and I'm already 44 years old."
The LAD artery is the largest of three arteries that bring blood to the heart. The "widow-maker" heart attack is so named because it's usually deadly. Despite its name, "widow-maker" heart attacks can strike both men and women.
Although lifestyle factors are one risk factor for heart attacks, genetics can also play a role. The Cleveland Clinic recommends lifestyle changes like quitting smoking, getting more exercise and eating a healthy diet for people with family histories of heart attacks. Symptoms like chest pain and shortness of breath are signs that someone might need to see a cardiologist. Because plaque can build up in the artery slowly over time, "widow-maker" heart attacks can create sudden emergencies like Smith's. He acknowledges that he got to the hospital right in time.
"If I hadn't canceled show 2 to go to the hospital, I would've died tonight," Smith tweeted.
As soon as the news of Smith's heart attack broke, fans and celebrities took to social media to send Smith their well-wishes. Actor Chris Pratt revealed that, like many of us, he's loved Smith since "Clerks," and asked his followers to join him in praying for Smith.
Secret Life of Pets writer Brian Lynch shared his good thoughts for the Silent Bob actor.
https://twitter.com/jetpack/status/968040803489611776
Filming and gaming writer Bob Chipman was all of us when he tweeted "Jesus. We almost lost Kevin Smith."
Producer Zach Roberts shared his hopes for a fast recovery along with a GIF of how most of us will always think of Smith, in his iconic role as Silent Bob.
For now, Smith is still in the hospital. Treatments for heart attacks include diet change, exercise, medications and sometimes surgery, according to the American Heart Association. Smith will also be facing at least two weeks and up to three months out of work while he recovers.