Kevin Spacey Comes Out After Being Accused Of Assault And Twitter's Not Having It
by Christina Marfice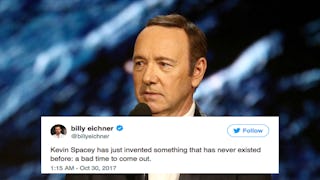 Image via Frederick M. Brown/Getty Images
Kevin Spacey has officially come out, and Twitter is not having it
Yet another of Hollywood's powerful men has been hit with sexual assault allegations. Anthony Rapp, an actor most famous for his role in the original cast of Broadway's Rent, has accused Kevin Spacey of assaulting him in 1986, when Rapp was 14 and Spacey was 26. Rapp claims that Spacey befriended him while they were both working on Broadway, then invited him over for a party, and at the end, when all other guests had left, picked Rapp up, placed him on his bed, and climbed on top of him.
"He was trying to seduce me," Rapp said. "I don't know if I would have used that language. But I was aware that he was trying to get with me sexually."
Spacey pretty immediately released a statement on Twitter responding to Rapp's allegations.
"I have a lot of respect and admiration for Anthony Rapp as an actor," Spacey wrote. "I am beyond horrified to hear his story. I honestly do not remember the encounter, it would have been over 30 years ago. But if I did behave then as he describes, I owe him the sincerest apology for what would have been deeply inappropriate drunken behavior, and I am sorry for the feelings he describes having carried with him all these years."
And then Spacey, who has long been chased by rumors regarding his sexual orientation but vehemently refused to discuss his personal life with reporters, wrote this: "This story has encouraged me to address other things about my life. I know that there are stories out there about me and that some have been fueled by the fact that I have been so protective of my privacy. As those closest to me know, in my life I have had relationships with both men and women. I have loved and had romantic encounters with men throughout my life, and I choose now to live as a gay man."
Almost immediately, Twitter started accusing Spacey of using his coming out to distract from the real issue: the fact that he's being accused of sexually assaulting a child.
Others pointed out the fact that Spacey's decision to come out literally as he was addressing the fact that he was accused of being a pedophile solidifies the incorrect correlation that some think exists between gay men and sexual predators.
"One of the age-old tropes deployed against gay and bisexual men is that they pose a threat to children, that they are synonymous with pedophiles and pederasts. This vicious lie has long proved useful in justifying the systematic persecution of gay and bisexual men. And that is why Spacey's statement is so utterly contemptible," columnist Owen Jones wrote for The Guardian in the wake of Spacey's comments. "When celebrities respond to scandals, they have a team of experienced PR representatives to help craft statements. And what do PR representatives try to do in these circumstances? They try to deflect attention by introducing a new story. In this case, it was their client coming out. Spacey has injured a minority he has publicly refused to associate with until a few hours ago."
Jones' assessment is true. Spacey's decision to choose this moment to finally, after decades of refusing to do so, publicly disclose his sexuality was a botched attempt to distract us from the real story: He is the latest of Hollywood's most powerful men to be accused of assault. The unintended consequences of Spacey's rushed attempt to redirect our attention will be real for the LGBTQ community.
More than ever, it's important for all of us to support victims — all of the women who have accused Harvey Weinstein and Bill Cosby and so many others, Anthony Rapp and the entire LGBTQ community that will feel the fallout from this latest accusation.
This article was originally published on