KFC Is Selling Fireplace Logs That Smell Like Fried Chicken And Yes, Please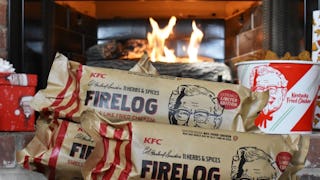 Image via KFC
Forget Christmas cookies and pine — this holiday season, your whole house can smell like KFC chicken
Picture this: You come home from a long day at work. You're tired. Your back hurts from your crappy office chair with no lumbar support. It's freezing outside, because December. You fumble with your keys, finally get them in the lock and push the front door open, to be met by the homey, comforting smell of KFC fried chicken. Ah, bliss.
This can be your life. Because this holiday season, KFC has given us the greatest gift of all: the ability to permeate our homes with that sweet, extra crispy, 11-herbs-and-spices smell. For a holiday marketing promotion, the chain is selling chicken-scented firelogs, because it clearly knows what the people want.
So not only will it be like a delicious, chicken-y perfume for your entire house, but you enjoy a crackling holiday blaze while salivating over the bask of that deep-fried nose treat. KFC over here making so many dreams come true. They could have just released a scented candle, but no. KFC is extra, and we're here for it.
I know what you're thinking. This deal couldn't possibly get any better. But buckle in, fellow chicken lovers, because it is actually about to get way better. These chicken logs are made by Enviro-Log, a company that makes firelogs out of 100 percent recycled materials. And one 5-pound log will only set you back $18.99, which includes taxes and shipping. Literally that's less than what a 12-piece bucket of chicken costs. And who needs real chicken when you can have fire that smells like chicken?
The only thing left to do is relax and enjoy your newly chicken-scented home. Just, um, don't try to eat the log. And probably don't stick your face directly into the fire to smell it? And if you live anywhere with a high population of bears or other predators who might enjoy some fried chicken, you might want to pass on this. But otherwise, go nuts! Merry Chickenmas. Chickmas? Yeah that works.