KFC Is Offering $11K To Name Your Baby After The Colonel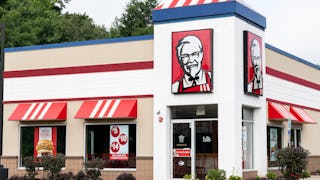 Image via Getty/ Michael Brochstein/SOPA Images/LightRocket
Harland has a nice ring to it, especially for $11K
If you've always dreamed of naming your baby after Colonel Sanders but your significant other just isn't feeling it, we've got some news that may just put them over the edge. KFC and their genius marketing department is giving away some cash cash money if you name your little drumstick "Harland."
KFC is gifting an $11,000 donation to your kid's future college fund if you're lucky enough to have a baby on Sept. 9, 2018 and willing to name that lil baby chick after the Colonel (whose full name was Harland David Sanders). The goal of the contest is to honor his 128th birthday and to possibly popularize the moniker.
The last time the name Harland snaked onto the top 1,000 names for American baby boys list was in 1918 — and even then there were only 155 Harland's born. Personally, I think it would be kind of a cool name for a girl or if you need a jump on your little chicken nugget's college tuition, which should be around $3 million dollars a year (give or take) by the time they go off to university.
Due in September and think Harland has a nice ring to it? Head to their website to check out the details. You won't actually be able enter your details until October 9th of this year, but it's good to get it bookmarked and do a dry run before the big day. They already have a placeholder question you can answer as practice:
Deep breaths, you got this.
Once baby Harland has made their way into the world (bursting from your womb with a drumstick in each hand, obviously), you have 30 days to enter and if your sweet angel is found to be the first Harland born on September 9, the company will donate a cool $11K into a college fund, after the 11 herbs and spices used for their addicting original recipe.
"Ever the entrepreneur, Colonel Sanders bounced back from a series of failed jobs and business ventures to found Kentucky Fried Chicken in his 60s," a KFC spokesperson told The Atlantic. "We couldn't think of a better way to honor him than to help support Baby Harland's future successes with a college donation."
So what happens if you're the second Harland born on September 9th? Well, you're shit out of luck but hey, at least you'll have a funny story to share every time someone asks you how your parents came up with your name.