Khloe Kardashian Shares Her Scary Battle With COVID On 'KUWTK'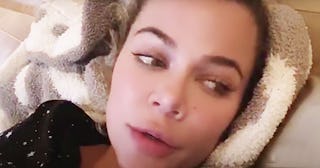 Keeping Up With The Kardashians/Youtube
Khloe Kardashian contracted COVID at the start of the pandemic
Kim Kardashian is currently being roasted by the internet for renting out a private island so she and her friends could "safely" party and vacation during a pandemic, so this latest bit of Kardashian COVID news got swept under the rug and it's that Khloe Kardashian tested positive for COVID-19 at the start of the pandemic and despite being young and healthy, her battle with the virus was really rough.
Though Khloe is all good now, the youngest Kardashian sis struggled with the coronavirus back in March, detailing her serious and painful symptoms in a new episode of Keeping Up With the Kardashians.
In the episode, Kim and Kris Jenner detail Khloe's diagnosis, saying she's been quarantined in her room with symptoms and that Khloe has been "scared" and "really nervous about it." Filming alone from her bedroom, Khloe talked about her experience with COVID-19 and it did not sound good.
"Just found out I do have corona," Khloe said. "I have been in my room, it's going to be fine, but it was really bad for a couple days."
"Vomiting and shaking and hot and then cold. I suffer from migraines, but this was the craziest headache…[and] the coughing in my chest would burn…and my throat is still not fully recovered, clearly," Khloe said while noting how hoarse her voice was.
"Let me tell you, that shit is real," Khloe added. "But we're all going to get through this. Praying if we follow orders and listen we're all going to be okay."
It's crazy that Khloe contracted the virus, considering the remote fortresses this family lives in, but then again, Khloe reportedly got sick in March or April, back when nobody knew anything about the virus and we were all hoarding Lysol instead of wearing masks.
This also slipped under the radar, but TMZ reports that Kanye West also had COVID-19 back in March and Kim told Grazia earlier this month that while Kanye was struggling with the virus, she would only interact with her husband wearing a mask and gloves, which apparently worked to protect her, as Kim has not stated whether or not she ever contracted the virus herself.
"I had to go and change his sheets and help him get out of bed when he wasn't feeling good. It was a challenge because it was so unknown," Kim told the magazine. "Changing his sheets with gloves and a face shield was really a scary time."
However, as evidenced by their party pics on Instagram, it's safe to say everyone in the Kardashian-Jenner brood has recovered.