14 Awkward Moments Parents Experience at Kid Birthday Parties
by Wendi Aarons for Lifetime Moms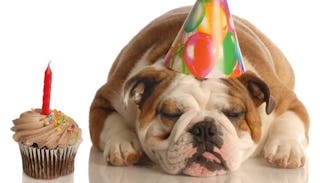 1. You walk in to the party, hoping it's a drop 'n dash, only to realize that all of the parents are staying. You then have to pretend it wasn't you who just yelled, "Oh, for f-cks sake, kill me now."
2. You ask the hostess if there are any adult beverages to lessen your pain, haha, and she says, "No, we're all Mormons."
3. All of the kids at the party are running around playing except yours. Yours is on a bench reading a book. About serial killers.
4. You join a group of chatting moms who seem nice until you realize what they're chatting about is government conspiracies.
5. One of the dads accidentally touches your butt in the bounce house, then you both have to pretend it never happened for the next hour.
6. An aunt hangs up "Pin the Tail on the Donkey," only to realize she accidentally brought the "Pin the Penis on the Hunky" game from her bachelorette party. Nobody is amused but you.
7. When the birthday kid opens his presents, his younger sister throws an epic tantrum that everyone tries to ignore.
8. After 30 presents, the birthday kid finally opens yours, then he excitedly points out the orange clearance sticker from Target that you forgot to remove.
9. You ask the hostess if she bought a gluten-free cake because she's trying to be trendy, ha ha, and she says, "No, we all have Celiac Disease."
10. Your kid blows out the candles on the cake before the birthday boy does. His sister then throws another epic tantrum that everyone tries to ignore.
11. One of the government conspiracy moms puts a party hat on your kid, but accidentally snaps the elastic strap under his chin and makes him cry. You then tell her you're going to report her to the CIA.
12. Just when you start to relax, thinking the party is almost over, thank goodness, the kids are given goodie bags. And inside the goodie bags—are whistles.
13. The party ends when the group that has the room booked next shows up and takes over. You ask the hostess of that party if there are any adult beverages to lessen your pain, haha, and she says, "Of course."
14. You tell your kid he needs better friends, drink your beverage, then go find the dad who touched your butt in the bounce house.
Related post: 10 Ways Birthday Parties Suck
This piece first ran on Lifetime Moms
This article was originally published on