Boy Gets Whacked In The Face By Mike Pence And Insists On An Apology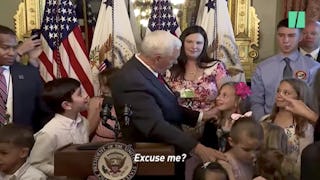 Image via YouTube
He followed the VP around until he apologized
The White House's National Military Spouse Appreciation Day was this past Tuesday and featured a guest who effortlessly stole the show. After an accidental run-in with Vice President Mike Pence's elbow, a little boy refused to give up until he got the apology he deserved. Video footage of the kid's tenacity has gone viral because it's equal parts hilarious and inspiring AF.
The vice president, his wife Karen, national security adviser H.R. McMaster and Ivanka Trump hosted several military families at the White House on Tuesday and after letting the children pet with the Pence family rabbit, the VP gave a few remarks to the assembled crowd. That crowd included one bold little boy who took an inadvertent hit to the face from the nation's second-in-command.
And he wasn't leaving until he got an apology, dammit.
After receiving a whack from the vice-presidential elbow, the child watched Pence conclude his speech with the words, "God bless these wonderful kids." Then, Pence began doling out hugs to the other kids, but our hero wasn't about to retreat in his mission.
"Excuse me…?" said the boy, more than once, even gloriously rolling his eyes at one point when his pleas failed to get the VP's attention. He followed Pence around politely saying, "You owe me an apology."
Pence likely didn't hear the boy and wasn't purposely ignoring a young child trying to talk to him, but it's still fun to imagine this kid as basically all of America asking the current administration to give a shit about any number of topics — healthcare, Planned Parenthood funding, education, the environment — take your pick.
This little boy is every one of us quietly demanding what we are owed. We can all take a lesson from his dogged determination to not take no for an answer, because his persistence eventually paid off. The VP finally turned around and addressed the boy saying, "Oh, I'm very sorry, I didn't mean to bop you."
Now, maybe we need to get this kid to follow around Kellyanne, Spicy and the gang until we get straight answers on a few other pressing issues.
H/T Huffpost