12 Family-Friendly Podcasts For Those Summer Road Trips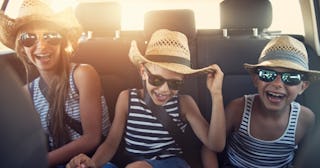 Imgorthand/ Getty
If you're like us during a road trip, you want your kids to look up from their iPads every once in a while to look out the freaking windows. After all, we are driving all over the countryside so they can appreciate the beauty of the world we live in. We had to spend "quality" time with our parents when we were kids, and so do they — dammit.
Often, however, the cries of "I'm booorrred" that happen after we enforce the no-technology decree are what parents' nightmares are made of. Some kids have a special talent at hitting the exact octave that makes me want to jam pencils in my ears.
Well, it turns out that there is a great compromise for all of us in the world of family-friendly podcasts.
Audio entertainment for our technology-spoiled children? Check.
The kids will experience the world around them without realizing it or complaining about it? Check.
You can enjoy your family road trip instead of wanting to murder one another? I mean, probably check?
Here are a few of our favorite family podcasts that are sure to keep the whining to a minimum. You're on your own with the bathroom breaks every five minutes, however.
1. Storynory
Fiction at its finest. From classic fairytales to modern-day stories, Storynory has something for everyone. One of my favorites — "How Love and Peace Came To The Woods" — is from Aesop's Fables. The podcast brings the stories to us from all over the world and each episode is short and sweet to match the attention spans of even our littlest ones. Listen here.
2. The Radio Adventures of Dr. Floyd
This podcast started in 2004, so there are a lot of Dr. Floyd adventures piled up to get you across those boring parts of South Dakota (or Nebraska). Each podcast is only five minutes long and filled with Dr. Floyd's life-threatening situations against his nemesis Dr. Steve. Dr. Floyd and his crew do things like get taken prisoner by Time & Space Worms, and then go back in time to stop Dr. Steve from stealing lots of things — like Annie Oakley's gun and the Wright brothers' plane. It's full-on fun. Listen here.
3. Wow in the World
Wow in the World asks questions like, "How in the world did 170,000-pound dinosaurs walk around without collapsing under their own weight?" I have no idea, but now I really want to know. Love science and curious kids? Want to know when we will be able to vacation in space? Or what early humans ate? Or how to solve the problem of disposable water bottles? Excuse me, I'm just going to go download this one now. Listen here.
4. Stuff You Should Know
More stuff you should know. I've learned something new every time I've listened to this podcast. From why whale strandings happen, to how optical illusions work, to asking the question, "Are head transplants real?" Your brain will get blown right open with this podcast. Obviously, you will have to filter through to the ones that are appropriate and that your kids will enjoy. Like, maybe skip the one on how magic mushrooms work. Listen here.
5. Brains On!
How do elevators work? Or the internet? How can we tell the age of dinosaurs? What makes cute things cute? How do whales communicate? What's with carnivorous plants? Oh my god, I had no idea I had so many questions about the world, and I'd better get started. Listen here.
6. The Alien Adventures of Finn Caspian
Here is the intro to Finn Caspian: "He can't sleep, he can't shake the feeling someone is following him, and he can't stop the monsters who show up to smash his cake." This kids' sci-fi podcast will entertain your kids and also help keep you from falling asleep to another kids music album. I mean, there are pet robots! Who doesn't love pet robots? Listen here.
So good luck out there on your own family adventures this summer, and remember to download whatever you want to listen to before you leave because, trust me, trying to download in the middle of nowhere is not effective. These podcasts are a great start, but there are a million more out there. Have fun exploring and yay for tricking our kids!
7. Story Pirates
Technically the Story Pirates podcast is for kids, but with guests like Patton Oswald and Paul F. Tompkins, they're pretty funny to adults also. The basic premise is that children submit stories they wrote themselves, and they're turned into skits and songs by a group of Story Pirates personalities. You'll look forward to downloading this one each week. Listen here.
8. Circle Round
So much of pop culture is based on folklore and fairy tales, so why not introduce your child to some of these stories from around the world. The Circle Round podcast does exactly that: developing folk tales into music-rich radio plays for kids ages 4-10. The episodes are 10-20 minutes each, so ideal for a day of running some errands. Listen here.
9. The History Chicks
If you're annoyed with how much the history taught in schools today still focuses primarily on old, dead white dudes, you may want to introduce your kids to the History Chicks podcast. Technically, this is one for adults, but the hosts know they have a lot of young listeners, so if they cover anything that's not child-friendly, they give parents a warning ahead of the episode. Listen here.
10. Planet Storytime
Planet Storytime aims to combine entertainment with learning, and does so through a mix of well-known stories (like ones by Beatrix Potter) as well as some less familiar tales. The episodes come out once a week, and at the end of each month, they release an extra-long episode of all the month's stories put together. This is a lifesaver during long drives. Listen here.
11. But Why
If you have a kid who asks nonstop questions, then the But Why podcast is for them. Children write in with questions about everything from science to politics to bodies to entertainment, and adults provide researched responses (this is NPR, after all). This may be a little on the dry side for younger kids, but your older children will probably get really into this one. Listen here.
12. Saturday Morning Cereal Bowl
Fed up with Kidz Bop and Mother Goose Club songs? Are you ready to lose it the next time you hear "Baby Shark"? If you're ready to introduce your kids to some new music that's also kid-friendly (in other words, not just putting the '90s hip hop station on Pandora and hoping for the best), try the Saturday Morning Cereal Bowl podcast. Listen here.
13. Earth Rangers
If your child loves nature, animals, and learning about the outdoors, they'll probably love the Earth Rangers podcast. Covering topics like feathers, fossils, and giant marsupials, your biology-loving kid will have a new obsession. Listen here.
14. Dream Big
Want to teach your kids about following their passions? Do you, perhaps, need some help in this area, too? Either way, you may want to download the Dream Big podcast for some inspiration. Topics include turning bad days around and dealing with stress. In other words, something that's helpful for all ages. Listen here.
15. Book Club for Kids
If you want to get your kids interested in reading, but they're not super impressed with actual books yet, the Book Club for Kids podcast is a good place to start. Each story is ready by a celebrity and there's an interview with the author afterward. Couple this podcast with weekly trips to the library to get out the books and make your own book club at home (or in the car). Listen here.
16. The Past and the Curious
Sure, there are other history podcasts (including some great ones on this list), but The Past and the Curious is created specifically for children. Topics of episodes include sewers, Otzi the Ice Man, the Harlem Globetrotters, and astronomy. Listen here.
Related: These Audiobooks Are Essential For The Next Family Road Trip
This article was originally published on