A Dad Mic'd His 4-Year-Old Playing Hockey And The Results Went Viral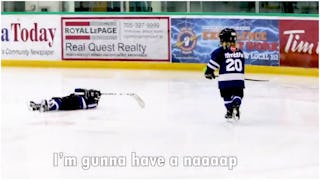 Image via Jeremy Rupke/Twitter
A dad mic'd up his son during hockey practice so he could understand what was going on with him – prepare to die laughing
Jeremy Rupke wasn't quite sure what was going on with his 4-year-old son Mason during hockey practice. He decided to figure it out by mic'ing Mason while he was out on the ice – and proceeded to find out exactly what was on his son's mind. Prepare for some truly hilarious content involving naps, McDonalds, and a mysterious old paint can.
Rupke took to Twitter to share a video of Mason on the ice, complete with sound bytes of his son muttering to himself throughout. "I mic'd up my four-year-old at Timbits Hockey so I could finally understand what the heck he was doing out there. It was… interesting," Rupke wrote.
The video features quite possibly the most adorable 4-year-old you'll ever see, repeatedly getting lost on the ice, suggesting everyone take a nap, complaining about his tired legs, accidentally entering into the wrong skating group, and needing to go pee. Oh, and he was also pretty dead set about taking a trip to McDonalds afterwards. This is all pretty relatable content for anyone who has ever been forced into a sports situation that they'd really rather skip.
The full video was posted on YouTube and it's very much worth watching all six minutes. Extra content includes Mason struggling to get back up on the ice and inexplicably blaming an "old fat can…old paint can." He was also very hopeful when the bell rang that practice was finally over and declared that he'd get to have a "baby happy meal."
Unsurprisingly, the whole internet fell in love with this pint-sized hockey star. Rupke's tweet racked up more than 84,000 likes and many, many comments. Basically, everyone was here for this very hilarious, very pure commentary.
Little Mason has officially joined the ranks of delightful "kids say the darndest things" videos. He's keeping company with one of other favorite tiny ones – a two-year-old who went viral in 2017 for saying "fuck" over and over and over again. His father, James LaPorta, captured a video of kid gleefully cursing for forty-two seconds straight.
"As a former U.S. Marine, now a father, there is perhaps one word I should try to cut out of my vernacular around my soon to be 2-year-old," LaPorta tweeted. He wasn't alone. Parents chimed in to say that their kids have also started spouting some colorful language. "My 5 year old recently told me I served up fking great pizza. I died a little," Twitter user @moseleywilliams wrote.
I guess the moral of this story is that children's monologues are ridiculously entertaining. Also, Mason playing hockey is the only sports content that I'll ever need.
This article was originally published on