11 Podcasts The Entire Family Can Enjoy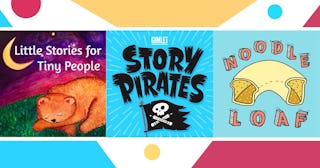 Scary Mommy and Little Stories for Tiny People, Gimlet and Noodle Loaf
Whether you're looking to keep screen time from getting out of control, want something new to add to your (temporary) homeschool routine, or searching for a new take on bedtime stories for your littles, there are countless kid-friendly podcasts out there ready to provide entertainment and education on-the-go for both you and your children.
RELATED: Hilarious Jokes For Kids That Adults Find Funny Too
Not only does the entire household get a break from Ryan's Toy Review or the constant and repetitive noise that is the game of Minecraft, but your child will be able to tap into their lesser-used senses by switching it up and listening to audio content. Instead of watching a story play out on a screen, they can feed their own imagination by visualizing it through voice-led stories. The problem is finding one that doesn't make you want to stab yourself in the eardrums.
No worries, we did the dirty work for you — and in the process, saved your ears (you're welcome). Check out our list of the top 11 kids podcasts you can enjoy with your children.
Unlike some of the other podcasts listed, Circle Round focuses on imaginative storytelling while adding important life lessons like kindness, bravery, and honesty into its folktales from around the world. With episodes ranging from 10-20 minutes each and geared towards those who are 4-9 years old, these segments are perfect for singalongs or even bedtime stories after a rough day.
Written by children and reenacted by adults, Story Pirates embraces the silliness in every child and values their imagination by bringing forth their own, original ideas (what kid wouldn't like an entire episode about farts?). Children can submit their stories, and world-class actors, musicians, and improvisers bring it to life with musical theater and a love for storytelling.
Not only did the Story Pirates win the Family Choice Award and the National Product Parenting Award, but with the help of their partner non-profit, Story Pirates Changemakers, they are able to provide literacy and creative writing programs to children in Title 1 schools and homeless shelters in New York and Los Angeles areas. Though the podcast does seem to be aimed towards elementary-aged kids and younger, their website is home to many chapter books for older children, as well as ticket sales for live-action shows, opportunities for the Story Pirates to come to your child's school, and (of course) t-shirts featuring the Pirates.
Funny and lively hosts Guy Raz and Mindy Thomas start off NPR's first podcast for kids, Wow in the World, by asking the audience questions about new scientific discoveries around the world, and then bring them along to give answer them through humor and debate.
Diving deep into some of the most kid-friendly (sometimes random) news stories of the week, Wow in the World keeps your child in the loop.
Another one brought to us by NPR, But Why will become the holy grail for your inquisitive child. Kids love to ask their parents "but why?" Now their random questions don't have to go unanswered, and moms and dads everywhere don't have to Google, "Do worms have buttholes?" (Praise be.)
Through interactions with their curious audience, But Why clues kids in on the "why" happenings in this world through facts and giggles. Many of the episodes are better suited for older-aged children, but for caregivers who are looking to bring something educating to the table, this podcast for kids will challenge your little people to think big.
Have a child who has already found their inner-zen from an early age? Or maybe your kids want to practice mindfulness and self-awareness? If so, the soothing tone Peace Out Podcast sets for it's viewers is going to become the perfect fit for you.
"I fall asleep so quickly with this on and no nightmares," a nine-year-old girl from Massachusetts says in a review of the podcast. "It's all I need for a perfect night's sleep."
Yes, it is exactly what it sounds like, and no, it isn't too good to be true. A book club for kids via podcast! With each episode, Book Club For Kids devotes a 20-minute segment to middle school-aged children and their love for chapter books. Follow along as a celebrity guest host does a reading, while the host and author join in to answer young readers' questions. Not only is this podcast the winner of the Literacy in Media Award, but it gives children a sense of community and unity by sharing their love of reading with other peers.
There's no shame in admitting that sometimes you just do not want to read your kids a bedtime story. The day is long, and occasionally, the night feels longer.
Give yourself a break from the usual, turn on Little Stories for Tiny People, and watch the toddlers and young children in your life immerse themselves in a world of make-believe stories before drifting off into a peaceful slumber.
Is learning a second language with your family on your bucket list? Maybe you want to travel to another country, help others in an area that isn't native to your mother tongue, or even communicate with those who live in a nation where they are, quite literally, misunderstood. If so, Eat Your Spanish is a fun and interactive place to start.
If you don't know much aside from the basics in Spanish, bueno! You and your children can learn at the same pace side-by-side.
Created by a music education specialist and father, as well as his "goofball kids," Noodle Loaf podcast is a wonderful outlet for your musical child. Each episode shows goofiness and learning through song, while also letting parents in on what the segment is doing to stimulate their child as well (e.g. rhythm awareness, pitch matching, etc).
Though it's aimed at kids who are three to nine years old, children of all ages have shown interest in Noodle Loaf.
We all love to dive into a new story, and our kids are no exception. With episodes lasting ten to 20 minutes, Story Time is just long enough to keep your toddler or young child engaged without losing interest. Through this audiobook podcast, your kids don't ever have to go to bed without a story, even on those nights where you're too exhausted to read one to them.
Told by kids, The Unexplainable Disappearance of Mars Patel is a tightly-wound mystery story both you and your middle schooler will love. Follow along as Mars Patel, and his buddies, JP, Toothpick, and Caddie, venture to places they've never been in search of their two missing friends. With the antagonist and billionaire Oliver Pruitt leading them on several twists and turns along the way, this audiobook is sure to leave you driving around the block one more time to find out what's next.
Whether you're a teacher looking to supplement learning curriculum, a daycare provider on the hunt for something to keep the whole crowd happy, or a parent who needs a break from bedtime stories for the night, there's a kid podcast for that.
This article was originally published on