This 12-Year-Old Is Painfully More Mature Than Our President-Elect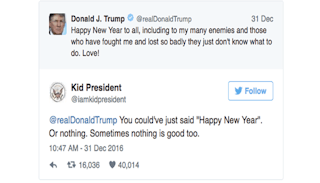 'Kid President' responds to Donald Trump's Happy New Year tweet
Help. Just, help. It's January 2, and we're all trying to face the new year optimistically. But there's a sense of doom on the horizon, because this is the month that Donald Trump will be sworn in as the 45th President of the United States.
Hold me. Hold all of us.
Even if we're trying our best to be optimistic, Trump is making it hard because he cannot stop his notorious Twitter ranting. Dude. You won. Can you shut the hell up now? What is he going to do when he can no longer talk about his victory? That will get old eventually, won't it?
Trump's Happy New Year tweet was true to form: childish and incoherent.
Love!
This is not presidential. It's not adult. How is this our reality?
Twelve-year-old Robby Novak, also known as "Kid President," replied.
A 12-year-old has more grace and maturity than our next president. This sad fact was not lost on the people of Twitter.
If you need us we'll be stress-eating Oreos and praying for a time machine.
Okay, okay! You're right, Kid President. This is no time to hide under the covers. We're in. Whatever it means.
UPDATE: We've been informed that social media channels run by "Kid President" are actually run by his brother-in-law, Brad Montague, so an adult wrote this tweet. We didn't realize Kid President was a persona and not a person when the story was published.
It's still a great tweet.
This article was originally published on