Kid Single-Handedly Destroys $15,000 Lego Sculpture In Minutes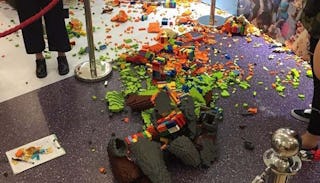 Image via WEIBO
Chinese artist spends days making Lego sculpture, kid destroys it in seconds
A chinese artist spent three days and nights painstakingly piecing together an immaculate statue of Nick the fox from Disney's Zootopia for the Lego EXPO in China over the weekend, only to have it destroyed immediately by a child.
The artist, Zhao, didn't take any payment for the broken statue and insisted the child didn't mean to destroy it. Mashable reported that the Lego figurine cost more than $15,000. Not sure how it cost that much, or why this thing wasn't glued together. All we know is that the destruction occurred less than an hour after the exhibit opened. Behold the carnage:
Aw. Just a scattered image of his former self. Never trust a child around Legos. Ever. No parent is surprised by this destruction.
I bought my kids this Lego Creations set a few weeks ago that they are way too young for. The pieces are tiny and the detail is ridiculous. When they immediately lost interest in everything but the minifigures, I was left to build the house. We all play with the toys our kids reject don't we? No? Just me?
Anyway, I spent an ungodly amount of time trying to build this very basic house — I was so proud of the pathetic results. I even took pictures. The minute my kids got their grimy little hands near it, it was destroyed. You have to have the patience of a surgeon to finish one of these things. And along comes your kid to ruin it all.
"The artist went on to post pictures of the broken figurine on his Weibo account, but did not elaborate about what had happened except to say he was heartbroken to see his hard work destroyed," reports Mashable.
Kids. Ruining everything since the beginning of time.
This article was originally published on