Kid Trolls ESPN Camera With Death Stare, Becomes Internet Sensation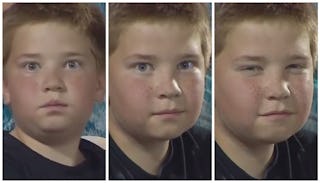 This kid's staring contest with an ESPN College World Series camera is going viral
Move over, Chewbacca Lady, because there's a new viral internet sensation in town. This time, it's a hilarious little kid who gave an ESPN camera an epic stare-down during a game in the College World Series.
It happened on Saturday night during an Omaha match-up between Texas Christian University (TCU) and Coastal Carolina. An ESPN camera was scanning the crowd when it came face-to-lens with an adorable, freckle-faced kid who was staring right back at it.
In now-viral footage of the face-off, the kid realizes the camera's operator is focused on him and proceeds to give the camera an intense, unblinking glare for several seconds. From there, he decides to have a little fun. He starts shimmying his shoulders and raising his eyebrows while smirking at the camera like he's about to ask it out for an ice cream cone and a PG movie.
After that, he goes right back to glaring and narrowing his eyes like, "Come at me, Bro." The kid continues his relentless staring, not blinking at all the entire time. The whole thing lasted about a minute, and by the end of it, the kid was the talk of the internet.
The kid's staring contest with the camera got so much attention, in fact, that the kid's mom even got wind of it while the game was still going on. A tweet by the National College Athletics Association (NCAA) shows her checking something out on her phone and then cracking up before showing it to her son. He looks at it and gives a little cheer, presumably at the fact that he's now internet-famous.
Obviously, this boy belongs in advertisements or something, because I don't know any little kids who would take on a television camera with such gusto. Hell, I'm a grown-up, and even I'd rather duck and hide than have my face broadcast live for all the world to see. The Coastal Carolina Chanticleers walked away with a victory on Saturday night, but as anyone watching the game could see, this kid was clearly the MVP.
This article was originally published on