Video Shows Woman Attempting to Kidnap Two Children From Atlanta Airport
by Leah Groth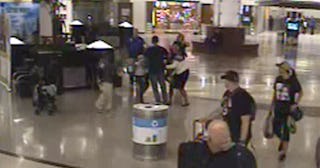 Atlanta Police Department
The family was Disney bound when a stranger tried to kidnap their kids
Kidnapping is a terrifying reality — even in broad daylight in the middle of a busy international airport. One family learned this the hard way, when a total stranger attempted to kidnap their two children at Atlanta's Hartsfield-Jackson International Airport, where they were getting ready to board a flight to Disney World in Orlando, Florida. Part of the ordeal was caught on security cameras, and it is totally scary.
According to officials, 26-year-old Esther Daniels approached the vacation-bound family and attempted to grab their stroller with a child inside. The mother tried to fight her off — because moms are basically superheroes without capes — but at that point, Daniels reached for the second child. Then, the father, a traffic control officer, witnessed the encounter from across the airport and ran to the rescue. Daniels can be witnessed fleeing from the scene. She was quickly apprehended by a female officer and arrested after a visit to a local hospital. She has been charged with kidnapping and obstructing an officer.
"Her behavior was very erratic, but we can't really speak on what her mental state was, but we can agree that what she did was very erratic and odd, to say the least," Atlanta police spokeswoman Tashena Brown told WSB-TV.
Traveling with children can be super stressful, as we all know. It is easy to get distracted at airports or train stations because there is so much going on. If your children are old enough to understand, it is so important to discuss what they should do if a stranger approaches them.
Take the case of this 11-year-old who recently thwarted her own kidnapping by asking the would-be kidnapper for a code word, for example. At the time of the attempted kidnapping, her mother explained that they had come up with an emergency code word, just in case a situation like this went down. One day the mom received a terrifying call from her daughter. "She told me that a guy tried to take her," said James. The girl was approached in an Arizona park by a man who told her a bogus story about a family emergency in order to try to get her into his car. She asked him for the secret code, which totally caught him off guard. So he just drove off. Brilliant, right?
Keep in mind that these stranger-type kidnappings are very rare — only about 100 children (a fraction of 1%) are kidnapped each year in the stereotypical stranger abductions you hear about in the news.
Police are deeming the arresting officer at the Atlanta airport a hero. "She deserves all the praise," Brown said, according to WSB-TV. "Especially for her to have been working, really, in a civilian capacity, for her to just to jump in right away with no hesitation, is amazing."