The Brutal Truth About Kids' Birthday Parties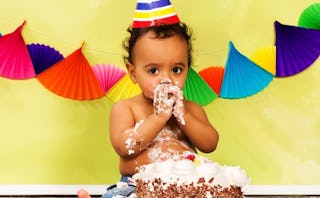 First Baby
For your first child, you start thinking about their birthday party from the moment your newborn is handed to you. This will be the type of party lifestyle magazines write about. You spend the first six months researching matching chair covers and tablecloths and have them shipped in from overseas together with coordinating bunting and serviettes. Prior to being a parent, you didn't even know what bunting was.
You get professional photos of your baby and have them made up into invitations that are hand-delivered by courier, and when they are opened, live butterflies come fluttering out of the envelope. You invite all the family, your entire mothers' group, your husband's colleagues, the obstetrician who delivered the baby, half a dozen midwives and your lactation consultant.
Three months prior to the big day, you start interviewing catering companies who will need to provide platters of teeny-tiny food to your guests. Your husband assists by handing over his credit card and suggesting that you get cupcakes decorated with your baby's face made out of icing. You think that is brilliant. Not that the baby is allowed to have anything with sugar in it.
On the big day, you have a bouncy castle despite the fact that your baby is too little to appreciate it, and you wouldn't dare let her near it anyway. You decorate your house with two hundred helium balloons, and when one pops you spend half the party consoling your crying baby. She receives dozens of very expensive, impractical gifts and the only thing she wants to play with is a scrunched-up ball of wrapping paper. She sleeps through the speeches.
Afterwards, you realize the party cost as much as a second-hand Getz.
Second Child
For your second child you are determined not to go into debt to throw their first birthday party, and instead plan a low-key, family-only event. Then you remember you have a toddler who doesn't believe in 'low-key' and is more excited about the party than you are.
You love a good 'learning opportunity,' so you get your toddler to help make all the decorations and even though they're essentially cutout shapes covered with glue and glitter, you're pretty proud of them. You decide you will take your own photos this time round, but when you print the invitations, you realize there is not a single photo of the birthday child as the toddler has photo-bombed them all.
Two weeks prior to the big day, you write a menu that involves predominantly toddler-friendly food and ask all the relatives to bring a plate. Your husband assists by handing over $50 and reminding you that last time you were eating party leftovers for a week.
On the day of, you have a bouncy castle despite the fact that your baby is too little to appreciate it. Everyone knows it is to keep the toddler amused so she doesn't hijack the party. You decorate your house with a dozen helium balloons, and even when half of them pop, the baby doesn't mind at all. She has learned to tolerate all sorts of noise with her older sister in the house. You notice that the toddler is getting as many gifts as the baby, but luckily this baby is only interested in eating, and as long as you keep a steady supply of birthday cake in front of her, she is happy. Bugger the sugar, she's quiet. You don't bother with speeches.
Afterwards you can't recall a single thing that happened.
Third Child
You decide early on you won't bother with a first birthday this time around; after all, the baby won't remember anyway. But the older kids are relentless in their crusade to have a party, so you give in and plan a small family affair. Then you realize your eldest has invited half her pre-primary class.
The house already is covered in paintings and sparkles courtesy of the older kids, so you don't need to decorate, and you invite everyone by text message the day before. Your husband assists by watching the three kids while you pop upstairs for five minutes to shower and dress for the party. But just five minutes.
Your family and friends are well-versed in kids' parties by now, and everyone arrives with a plate of sausage rolls or fairy bread. You just supply the beer and champagne.
You have your own mini-bouncy castle these days, and a swing set and cubby and trampoline. You set up a playpen in the corner for the baby so she doesn't get trampled by the older kids. You blow up a few balloons on the morning of the party and are so busy trying to stop the older two from fighting that the birthday girl is still in her pajamas by the time the party starts. She's used to it. No one knows what to buy your third child – you already own every toy known to mankind – and you are secretly glad that she doesn't get many presents.
Afterwards, you realize you mixed up your kids' birthdays so you actually held the party on the wrong day.
This article was originally published on