Tired Of Shopping At The Same Ol' Clothing Stores For Your Kids? Start Here.
by Sara Farrell Baker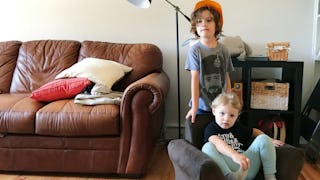 Sara Farrell Baker
Walking through the aisles at Target is my love language, and I love coming across a cute shirt here and there for my kids. But finding a small business that churns out adorable fashion finds for kiddos? That makes my day.
There are lots of independent retailers out there designing quirky and interesting apparel for children. Snatching up one of their pieces almost guarantees your littles won't be wearing the same T-shirt as every Liam, Sophia, and Lily on school picture day.
And lucky for you, we've gathered together a few of our favorite makers in the kids' apparel category.
These graphic tees are it. Their aesthetic has a vintage vibe that looks effortlessly cool. With positive messages, sweet phrases, and sibling shirts that aren't overly cutesy (finally!), these tees are some of the most-loved in our home.
Basics done right. And by right, I mean with bold colors and simple patterns. Every child I see dressed in J&J's clothes is dressed better than I am on any given day. I would get jealous if I wasn't busy fawning over all the cute.
All of the kids on their website look cooler than me. Like, every single one. Even the babies. The clothes are all rockstar-ready with attitude, and I am all over them.
Whenever I look at the Rags website, I basically dump the contents of my wallet out onto my laptop. Take. My. Money. Their comfortable, practical rompers slide on and off without tedious snaps, and the designs are stylish as hell. New designs typically sell out in minutes, but thankfully this "duh" print is available in tons of variations. We love them all.
The price tags might seem a little high, but your kids are going to get a lot more use out of each piece as they're designed to be grown into. So no tossing these in a bin when your children size-up. Plus, they're unisex to make it easier to pass down from brother to sister or vice-versa.
Knee. Patch. Leggings. Loola makes other things, but what more do you need? All of it is made in the USA if you decide you need to dress your kids in something other than just knee-patch leggings though.
A shop full of organic tees with perfect graphics is fantastic on its own. But the fact that Say comes out with new designs every week? You may get slightly addicted to checking in and ordering your favorites before their small batches run out.
If you follow any fashion-forward moms on Instagram, you've likely seen a Hatch tee or two on their impeccably dressed children. HFK is basically the shop for kids who have cool in their genes, and I'm especially happy to see some of my favorite shirts come in adult sizes too.
With holiday shopping in full swing, if you're looking to spend your money with small businesses instead of braving the mall or soliciting the big box stores, these are great places to start.
This article was originally published on