White House Tells Governors To Prep For Kids Covid Vaccine Rollout In November
by Kristina Johnson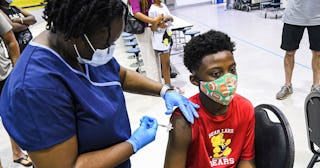 Paul Hennessy/SOPA Images/LightRocket/Getty
The Biden administration has reportedly purchased enough pediatric COVID vaccine doses to protect 28 million kids
The light at the end of the tunnel is getting brighter and brighter for parents waiting to vaccinate their kids against COVID.
Per ABC News, the White House held a conference call with governors from around the country on Tuesday, letting them know that they should start getting ready to vaccinate kids age 5 to 11 sometime in early November. The FDA is still considering whether to grant emergency authorization to Pfizer's pediatric vaccine, but if the process plays out the same way it has for other age groups, it should sail through to approval in a matter of weeks.
Once that happens, the government will begin distributing the free shots to a network of approved providers, which will include pediatricians, hospitals, and pharmacies. The Biden administration purchased 65 million doses from Pfizer, and just like with adults, kids will need two doses each.
"It's important that all of us recognize that parents have been waiting for a pediatric vaccine for a long time so they will understandably be very eager to get their kids vaccinated or kids vaccinated right away," White House COVID coordinator Jeff Zients told the governors.
It remains to be seen, however, how many parents of kids in the 5-11 age group will be eager to sign their children up for the shots. Among kids ages 12 and up, a group that became eligible for the vaccine back in August, the vaccination rate is only about 43 percent according to U.S. News and World Report.
For every parent who's counting down the days until they can get their kid vaxxed, there are others who plan to "wait and see," and still others who are a firm no. The FDA has tried to reassure parents that government regulators will examine all the data closely before issuing approval. "We know from our vast experience with other pediatric vaccines that children are not small adults, and we will conduct a comprehensive evaluation of clinical trial data submitted in support of the safety and effectiveness of the vaccine used in a younger pediatric population," Acting FDA Commissioner Janet Woodcock said in a statement earlier this month. The FDA is planning to hold a meeting on October 26th on the approval process.
While COVID doesn't seem to be as dangerous to kids as it is to adults, hundreds of children have died after contracting the virus. Since kids began going back to school in August, more than a million infections among children have been reported. The COVID vaccine could finally help put and end to that — and bring a sense of normalcy back into children's lives.