Millions Of Kids' COVID Vaccine Shots Are Ready And Waiting For Approval
by Erica Gerald Mason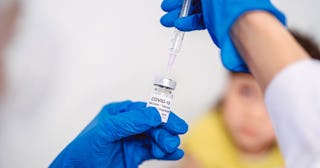 Images By Tang Ming Tung/Getty
The news comes after regulators approve the nation's first coronavirus vaccine for younger children
The U.S. government will dole out up to 20 million doses of the Pfizer coronavirus vaccine to school-age kids across the country, with the rollout expected to hopefully begin in early November. The government purchased enough doses to give two jabs to each of the 28 million children ages 5 to 11 who qualify for it.
Current plans are to dispense the shots according to a formula to make sure all kids get equal access. That process will probably be based on a state's population of eligible children, according to an anonymous federal health official who spoke to the Washington Post.
One pediatrician posted about the news on Twitter.
The CDC said providers who are most likely to vaccinate children "should be prioritized for initial dose availability," including pediatric clinics, federally qualified health centers, rural health centers and pharmacies.
Logistics are still being worked out, according to the Post article.
"While overall supply may be sufficient, said, a key challenge will be ensuring the children's vaccine can be shared with all the providers who may want to administer it" Claire Hannan, executive director of the Association of Immunization Managers told the paper. Pfizer's vaccinations are delivered to medical facilities in packages of 10 vials, each containing 10 doses, for a total of 100 doses. The packaging of the doses will make it hard to share the vaccine with many providers, Hannan said.
"If you have 100 kids across one county, you can only send one package of those 100 doses somewhere," said Hannan. "That's not really what I consider sufficient. If they were single-dose vials, you could spread them around."
Some federal and state officials and health providers worry that vaxxing kids will be more of an uphill climb than it was for adults or teens. The U.S. Health and Human Services and the Education departments will launch "robust messaging/outreach campaign" to encourage vaccination for children, the official told the media outlet.
The Democratic Coaltion tweeted about the push to educate the populace.
"VaxTeen is helping teens across the U.S. navigate vaccine-hesitant parents and get their COVID-19 vaccines."
A Twitter user questioned why some are willing for their children to have other vaccines, but are hesitant about the coronavirus vaccination.
Another posted about the seeming disconnect.
"Those bitching about covid vaccines for their kids had zero issues with the **fourteen shots** their kids needed …TO GET INTO KINDERGARTEN," the post reads. "Vaccines are why our kids don't die of diphtheria."
While the logistics and communications are still being worked out, millions of parents are ready to get their kids immunized. Here's hoping this is the beginning of the end of the pandemic.