Some Kids Are Mourning Because They Didn't Get to Say Goodbye to Their Teachers
by Rachel Garlinghouse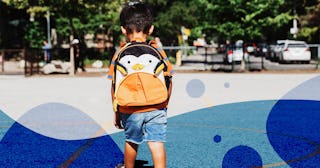 Scary Mommy and Sarah Pflug/Burst
It was our second—yes, second—day of social isolation, when my son begged me to let him go to school. He confessed the reason he was feeling blue. It wasn't missing recess or lunchtime with his friends, riding on the school bus with his bestie, or having classroom technology time. He was sad because he wanted to see his teacher.
Our kids didn't get to say goodbye to their teachers. One day they were at school, and the next day, they were released for an indefinite number of days. First came the suggestion of social isolation, which our school district thankfully took seriously. The schools closed abruptly after, with kids sent home with all their locker's contents plus packets of schoolwork. There weren't hugs or gentle transitions, such as calmly delivered promises of "see you again soon." There one day, gone the next. Where was the closure that COVID-19 had stolen from them?
The impact of the coronavirus took most of us by surprise, including our kids and teachers. While confusing and conflicting reports slammed the news and filled our social media feeds, there was something brewing underneath the surface. I, along with most parents, had no idea how hard social distancing, social isolation, quarantines, and shelter-in-place state mandates would impact our children.
https://www.instagram.com/p/B-FBTRnhwuc/?utm_source=ig_web_copy_link
I've sensed that after schools closed their doors, children began to experience the intense weight of the coronavirus pandemic. Like us, their whole worlds were turned upside down and inside out. No matter how much we work to shield our kids from unnecessary burdens of fear, the drastic change from being in school Monday through Friday for seven hours a day has brought on disappointment, confusion, anxiety, frustration, and anxiety. Their desperation to see their teachers is raw.
They went from learning, working, playing, and eating alongside their classmates and teacher to being homeschooled by their parents. At school, there's often a strong sense of community, loyalty, and comfort that's been lost ever since the proverbial rug was pulled out from under them. What are they supposed to do now? What is this new normal, and when will it change—again? We all are wondering if our children will return to school this year at all, or if we'll simply try again in August/September.
There's a strange air of disconnect now. My kids' second families—their peers and teachers—have been broken up. All the technology in the world, the video chats, e-mails, prerecorded lessons, cannot make up for what's been lost. (Though I'm seriously appreciating how hard our teachers are working despite all the constraints.) For some kids, especially those who are particularly sensitive to change, this breakup-of-sorts is most definitely a loss they are grieving.
All four my children have expressed missing their teachers, though some are coping better than others. It's not that they don't have any access to their fearless leaders. They do. Teachers have gone above and beyond, some even graciously offering their personal cell phone numbers in this season. Even with all of the possibilities at our disposal, kids yearn for routine and familiarity. And what's going on right now is most definitely not routine or familiar.
One of my children voiced at bedtime, around day five of social isolation, that they wondered what their teacher was doing at that moment. Another one never directly expressed missing their teacher, but it was obviously given the increasing anxiety over questions about schoolwork. My preschooler has been begging me for days to FaceTime with her teacher. They are so used to their teachers being available and dependable in-person.
The lack of consistency, despite me creating a fairly strict home learning routine (plus chores, snacks, and music practice), isn't enough. Plus, unless you're a regular homeschooler, mom being the teacher is pretty unfamiliar for a kid. There's something missing. Or should I say, someone? Without the captain of the ship, their teacher, it's natural that our children feel lost at sea without a map. No matter how hard we try, parents can't replace a sacred six-month long relationship. Our relationship with our kids is distinctly different.
What we're reminded of is that nothing replaces face to face, real time, hand in hand communication. That's what builds the best and strongest relationships. Since our teachers have been doing just that for our kids during most of a school year, everyone is now left to figure out how to bridge the relationship gap.
Maybe we will find that absence makes the heart grow fonder. I hope that if our kids return to school this year, there will be a strong focus on rebuilding what's been lost. There should be some serious healing time, putting relationships first and education second. But if students don't return to school this year, I can see how some children will develop trust issues and apathy from this separation. Other kids with trauma backgrounds may become further traumatized. School is the only safe place for some children—the place they know they will be listened to, invested in, and fed. These are terrifying realities.
The old saying is true. You don't know what you've got until it's gone. Thus is the case of our children being separated from their teachers. Certainly, we now have a much deeper appreciation for everything our children's teachers do for them, including and most importantly, love.
This article was originally published on