These Tweets Of Little Girls Dressed As Princess Leia Are Giving Us Life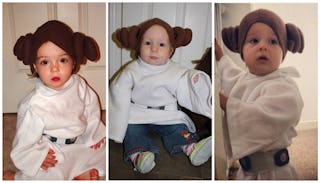 Generations of kids dress liked Carrie Fisher's most famous character
As the world mourned the loss of the incomparable Carrie Fisher parents took to Twitter to share photos of their daughters dressed as her most famous character, Star Wars' Princess Leia. Fisher, who was 60, died Monday after suffering a heart attack.
"It is with a very deep sadness that Billie Lourd confirms that her beloved mother Carrie Fisher passed away at 8:55 this morning," reads the statement provided to PEOPLE magazine. People have been posting messages celebrating Fisher's life and work after news broke that she went into cardiac arrest on a flight from London to Los Angeles on December 23. And when her passing was announced to the world fans had tons of photos to share of their little girls dressed just like Princess Leia.
While Fisher has an incredible body of work, she's most known for her role as Princess Leia. Kids (and adults) from all over the world have dressed like the iconic character for Halloween, Comic Con, or whenever they wanted to feel like a kickass lady hero. Jamie Wilson, the genius behind the Twitter account Single Mom Survives, put a call out for the photos when she shared the below of her daughter Madeline. Wilson dressed her daughter, who is now 11, as Princess Leia for her first Halloween.
"I thought maybe sharing photos of all the girls she's inspired dressed up in her most iconic role would help show that her legacy is here to stay and it will live on. I dressed up as Princess Leia in the late 70's and as soon as I had a daughter I couldn't wait to dress her up as Princess Leia as well," Wilson told Scary Mommy. "I thought if I felt that then there are probably a lot of other moms and dads out there that are feeling the same way and would probably have pictures of their own to share in tribute. She was not only a part of my childhood but my daughter's as well, and that makes her loss feel close to my heart."
"I'm heartbroken because we lost a woman that was every bit as strong and amazing as the characters she played. She appeared to me as a fan to be a highly complex, complicated mess and she owned every single bit of it with raw honesty, and I could relate far more to that than I ever could an image of perfection," Wilson shared. "Whenever this world loses a fierce, wickedly funny and painfully honest woman it hurts."
The outpouring of images shows that Fisher's legacy will live on. Thankfully fans will get to see Princess (now General) Leia in the eighth Star Wars film, which she finished filming before her death.
"Carrie and I have been friends most of our adult lives," Star Wars creator George Lucas shared in a statement. "She was extremely smart; a talented actress, writer and comedienne with a very colorful personality that everyone loved. In Star Wars, she was our great and powerful princess — feisty, wise and full of hope in a role that was more difficult than most people might think. She will be missed by all." And because the love the world felt for Fisher and her famous character never went away, some moms shared pics of themselves dressed as Princess Leia.
"Carrie was one-of-a-kind, brilliant, original," said Harrison Ford, who played Han Solo. "Funny and emotionally fearless. She lived her life, bravely.
Fisher – as a person and an actress – inspired countless girls and women, who also shared what the iconic actress meant to them. "Leia picked up the gun and started firing back. She was getting 'rescued,' but had to take charge. That visual, the princess taking control, burned itself in my brain very early on," wrote Meg. "Later, in her books and interviews, she became such an advocate for mental health and self-acceptance and -love. My childhood hero became the important voice and advocate I needed as a young adult."
Later in life Fisher became an outspoken advocate for mental health issues by sharing her personal struggles with bipolar disorder. "I imagine that being 'famous' is not all it is cracked up to be and comes with its own daily privacy challenges," Wilson told us. "So when someone with a voice such as Carrie can use that voice to remove the stigma of mental health issues then she's contributed her soul to more than her art, and that is a remarkable legacy."
Thank you for being the fierce heroine we needed.