There's Been A Mass Shooting At A Florida High School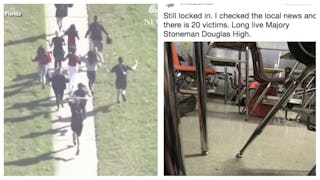 Image via ABC/Twitter/TheCaptainAidan
Students tweeted from their classrooms while an active shooter was at large
There was an active shooter situation at Marjory Stoneman Douglas High School in Parkland, Florida this afternoon. Some students were trapped in their classrooms as the school went on lockdown after gunfire began during dismissal. As of 4:15, the shooter was reportedly apprehended. According to The Sun Sentinel, there are 3,208 children in grades 9 — 12 enrolled at the school.
Kids were tweeting from their classrooms while on lockdown, the shooter still roaming the campus. This is absolutely horrifying.
Margate Fire Rescue has called this a "mass causality incident."
Before the shooter was apprehended, the Coral Springs Police department tweeted that police were working an active shooter scene. "If you are in touch with your student, ask that they remain calm and barricaded until police come to their room," they advised parents. Is there a worse nightmare than this?
Joel Leffler, who has a son and daughter at the school, told NBC News, "My son called me as it was unfolding, running. He had to jump a fence. My son heard around eight gun shots as he was running out." When Leffler reached his daughter, she was terrified and whispering. "My daughter, who was there in the freshman hall where the shooting took place — she's in shock right now and she's being taken out by SWAT. She saw multiple dead bodies."
Broward County Public Schools says there are "numerous fatalities" but can't confirm exactly how many.
Reports are starting to emerge with details of the shooting. It appears to be one shooter, and they used a rifle.
Our thoughts are with the victims, the students, and their families who had to endure this horrific event because we live in a country that refuses to prioritize the safety of its citizens.
When are we going to say ENOUGH?
The time to talk about gun safety is now. If you would like to advocate for the safety of our children, you can start by joining Moms Demand Action for Gun Sense In America.
This article was originally published on