A Short List Of Children's Films We (Probably) Never Want To Watch Again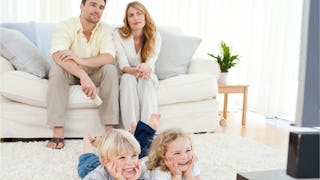 ESB Professional / Shutterstock
If I hear "NO TROLL LEFT BEHIND!" again, I'm going to scream. I love Justin Timberlake (a lot), but right now, I kinda never want to hear his voice again. My kid has become ob-sessed with the movie Trolls. I mean, we're watching it at least once a day, twice if I am willing to suffer or I need to keep him occupied while I cook dinner or clean up. If it's not Trolls, it's Zootopia.
Seriously, I think these movies are cute and fun to watch, but I seriously can't take anymore. I'm hearing Anna Kendrick singing in my nightmares. I hum the incidental music to Zootopia while I wash the dishes. It has gone too damn far now.
When our kiddos like something, chances are they really, really like it. And that means that parents are subjected to multiple viewings of their favorite movies — along with YouTube clips and the official music videos. These (usually) brightly colored romps are made for tiny humans, and the grown-ups are force-fed repetitive songs and cutesy dialogue. Even when we like the movie, we can only take so much before we crack. So I just had to know, what movies are other parents sick of watching?
Here's what they said:
Trolls
Yes, Trolls is such a cute, brightly colored romp. Flush with Top 40 hits and a soundtrack produced by JT himself, it's a very fun 92 minutes. But by the end, you begin to question why the Bergens would want to leave their dreary lifestyle to live in the brightly colored glitter bomb that is Troll Town. I "Can't Stop the Feeling" of not wanting to hear that song ever again. (Still love you though, Justin.)
Moana
"You're welcome!" Moana is a total badass, but eventually it gets old. Really old. Even though Maui is voiced by Dwayne Johnson, he does not look like Dwayne Johnson, which would make the movie easier to sit through a million times.
Zootopia
You'd have to be a dumb bunny not to appreciate the social commentary wrapped up in the exploits of anthromorphic animals. But there's only so many times you can hear Gazelle sing "Try Everything" before you're begging your kid to try a new freaking movie.
Frozen
Even though Frozen mania was really big in 2014, it's still an oft-requested film. Young kids are always discovering (or rediscovering) it. I wonder if Idina Menzel is as tired of singing "Let It Go" as the millions of parents around the world are of hearing it. We still have a little time before Frozen 2, so we're building an ice palace for our ears.
Minions
"Burn it to the ground," says mom of three young boys, Megan. Several people mentioned frequent viewings of Minions. My kid loses interest about 30 minutes in every time we try to watch it, but Despicable Me 2? Burn it to the ground, please.
Boss Baby
Folks in my friend Jody's circle have been subjected to multiple viewings of Boss Baby. Frankly, the idea of a baby voiced by Alec Baldwin is off-putting, even if he is adorable and witty.
The Little Mermaid
As a '90s kid who was obsessed with this movie when it first came out, I was stoked when my kid got into it. That is until we had to watch it three times in a row. But I know other parents who are constantly being subjected to the off-key preschool warbling version of "Part of Your World" or "Under the Sea." There's a reason Ariel is still one of the most popular Disney Princesses.
The Lion King
The circle of life is being forced to watch The Lion King and its direct-to-video sequels multiple times. The original Lion King is a cinematic classic for sure. It really stands the test of time. However, the sequels are painful to watch. The Lion King 1 ½ is cute because of Timon and Pumbaa, but "Diggah Tunnah" does not work for me at all.
The Lego Movie
Everything isn't awesome after the millionth viewing of The Lego Movie. This was a popular movie with one of the kids I used to babysit, which then extended to my kid. He's still obsessed with Emmet, Wyldstyle, and Lord Business two years later. Help me.
Harry Potter
It may be an unconventional choice for little folks, but the parents whose kiddos are obsessed with the boy who lived say that they didn't think their kids would be into the film. But magic is appealing to everyone, isn't it? So now they are stuck at Hogwart's.
This list is just a small sampling of what we're being subjected to. Even though the obsession is always temporary, they are drilled into our brain for years to come. I now understand why my mom still knows all the words to "Be Our Guest." Sorry, mom.
This article was originally published on