Kids Parties That Don't Suck. Really.It's A Thing.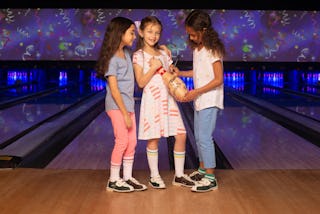 There comes a point in every mom's life when she finds herself attending dozens of kid birthday parties every year. From Aiden, to Bella, to Jackson ⏤ kids all want a party their friends won't forget, and us moms want a party that we can actually enjoy, too.
The good thing about going to tons of kids' birthday parties is that you quickly learn the difference between "meh" and "epic." And who has time for "meh"?
You can be the mom who throws epic kids' parties that all of the other moms actually want to attend. And it's easier than you think to have a bash that puts the "art" back into "party."
Have the Party Somewhere Cool (Literally)
Outdoor parties can be tricky. What if it rains? What if it's humid and my hair is so frizzy that it looks like I had a small electrical accident? What if it's so cold that the kids are all crying? Let's review. Crying: bad; turnkey fun: good. Enter Bowlero, your passport to epic party status and wait for it…you literally don't need to lift a finger beyond your bowling ball. Can I get a "hell yeah"?
Have Snacks And Drinks That MOMS Want
Kids' parties are notorious for finger foods and sweet snacks. I don't know about you, but I've outgrown graham crackers, applesauce, and pizza that tastes like cardboard. Hard pass. Of course, the party is for the kids, but if you have some delicious food and drink options for the moms, you'll make them very, very happy.
Bowlero's menu is a crowd-pleaser, from gourmet burgers to veggie spring rolls. And they have a full bar, which is great because nothing goes better with bowling and food cooked by someone else than a cocktail.
Embrace Grown Up Convos
Kids are occupied, food is handled, there may even be a cocktail involved. Did someone say girls' night? Okay, it's 3pm on a Saturday, but at Bowlero moms can make the most out of Aidan's 9th b-day. Translation: moms can have grown-up conversations and, if the mood strikes, show off their bowling and arcade skills to the kids. (Really whack-a-mole is the stress-relieving gift that keeps on giving.)
Let the Kids Do Their Own Thing
Some moms prefer a more hands-off approach. We see birthday parties as our chance to sit back and relax for a few precious minutes. So be sure to have plenty of activities that the kids can do with minimal involvement from us moms.
Again, bowling parties are perfect because once the kids are set up on the lanes, they take turns and run the show themselves. Plus, with bumper lanes, younger children can play independently, too. Never say "put on your shoes" again because – wait for it – Bowlero handles the shoes, too. If they could provide this service in the morning at my house, it would be a total game-changer. Dare to dream.
Bowlero has the atmosphere that your mom friends will be posting and tagging all over Instagram. It has games we can play (with or without our kids) that we love. Plus, it has a full bar, as well as food, that we moms can enjoy, too. Did we mention you can book online? Seriously, we can't think of a reason NOT to love it.
Bowlero makes birthday parties easy for you and awesome for the kids! Make those birthday wishes come true with customizable party packages that feature unlimited bowling, the latest arcade games, and kid-friendly menus that everyone will love. Book your party now in just minutes—anywhere, anytime—online: Bowlero.com
This article was originally published on