Spring Has Officially Sprung, So It's Time To Send The Kids Outside. Right?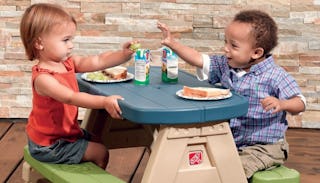 Amazon
One of the things I love most about spring and summer is that my kids prefer to eat their meals outdoors. Even when it is rainy, I drag their little picnic table under the covered part of the patio. It's not only adorable, it makes for way less of a mess inside.
Sure, they do a little running around and pick at their food, but they do that anyway. The dinner complaints and requests for refills are greatly reduced by the fresh air (or the sandbox) though.
You can snag this picnic table for $40 on Amazon right now, and it's the way to go. We rarely use the umbrella because I just can't be bothered, but on extra sunny days it does come in handy. The thing I like the most? It sprays off easily with the hose, and it folds up and sits against a wall in the "off-season." If you ever actually need to put it away — ours is in constant use it seems.
We pull it inside for art projects, parties, etc., when we need a kids table, or for extra seating. It's not the cute rustic wood table that you see in the magazines, but it serves its purpose quite well. My 1-year-old can use it safely, and my first-grader can still sit comfortably at it for a meal. In fact, we bought it when the first-grader was just learning to walk, and it is still going strong.
I'd say it was worth the investment.
This post contains affiliate links, which means we receive a small portion of the sale if you make a purchase using this link.
This article was originally published on