Why Young Kids Should Play With Fire (Yes, Really)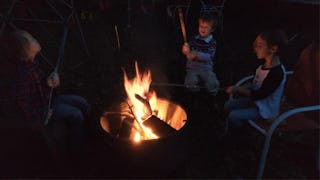 Christopher Broadbent
The lighter is too small for my son to use, but I am lighting twigs for him, watching him touch them to leaves, other twigs, paper, dryer lint. We are getting very frustrated, because nothing is catching fire for more than a second or two.
"It's wet," I tell Blaise, who is 8 years old. The 7- and 5-year-olds had a go, one at a time, but with the same results. Clearly, I am not their fire-master Eagle Scout of a father, who, with their help, built a merry blaze last night. The 7-year-old lit the fire after they all constructed a careful tripod of wood; everyone took turns feeding the flames; marshmallows were roasted. I am far less proficient at this. Eventually, we douse the fire pit with water from the nearby pond they're constructing from a hole in the ground and hose water. "We'll try again when Daddy comes home," I assure them.
Yes, I let my kids play with fire. In fact, I encourage it.
They are not scared of matches, and know how to strike them. They know how to use a lighter — at least a normal-sized one — and regularly light candles in the house with permission. My 7-year-old says he liked setting the fire with Daddy the other night, "because I got to hold a burning twig and it was fun."
They know not to get close to the flame, to feed it carefully, to avoid touching parts that will be hot. They know not to burn things that will float away (firestarting excluded) on the breeze and possibly catch something else. They know not to burn plastic. They want their own flint and steel. Especially the 8-year-old, fascinated with all things early man.
We're so used to the idea that kids and fire don't mix, that children should never play with matches, that we're frankly unaware there even are other approaches. But in The New York Times, Sara Zaske points out that many Europeans embrace a different approach to fire safety: they actually teach it. In fact, Kain Karawahn designed a fire workshop for preschools and kindergartens that "teaches children how to burn things properly," including "how to hold a match, use a lighter, light candles, and build small bonfires."
In other words, they learn about fire with needing to do it in secret or unsafely.
In the 1980s, a German couple, Günter and Gryta Julga, came up with a fire-safety program that removed the prohibitions against fire. Now most German fire departments embrace their ideas. "All the things you prohibit are interesting for young children, and the more you prohibit them, the more interesting they are," said Frieder Kircher, a deputy assistant chief with the Berlin Fire Department, told the Times.
So I'm not a lone weirdo or a survivalist. In fact, nearly every adventure play expert I talked to discussed the importance of fire as an aspect of play. Moreover, to the naysayers who point out that kids and fire don't mix, Meynell Walter, the editor of iP-D!P Weeklymagazine, points out, "Everywhere (almost) uses fire. Start with a birthday cake and work up from there."
Sol Hinami-Mayorga, founder and co-director of Fraternal Forest, a low profit social enterprise that focuses on wilderness and adventure play in urban Chicago, tells Scary Mommy that, "In Fraternal Forest, 6-11 year olds are the ones in charge of starting and caring for the fire so that we can all cook stick bread over it. Children look forward to being the fire keepers."
6-year-olds using fire? Most of us would be on the phone with social services. But Himani-Mayorga explains, "It's about close supervision without imposition, the person teaching fire skills has to understand fire and stay calm while explaining how to care for it. It's almost like caring for a baby, a high needs baby that is super attractive and behaves dangerously."
When I asked her for sensible directions on how to proceed with my three sons (who have ADHD), she said: "Kids with ADHD need more space around themselves (in case they unexpectedly move an amber out of the fire), the fire pit should be very stable, and away from putting a tree or a house in hazard. If the child gets fascinated by putting things into the fire, plan an assortment of things to put in (wood in different sizes, rocks, metal, green and brown leaves, an old cotton shirt, anything they can burn and enjoy watching burn). Don't bring plastic or poisonous plants because the smoke will be poisonous."
Himani-Mayorga also said that there should be at least one adult present for each risky behavior, until the child masters the ability and the risk is negligible. Both my husband and I kept that ratio, with one kid working with the fire at once.
But isn't this really dangerous?
Simon Bazley, a Welsh playwork consultant, supervises sessions where children play with fire and runs courses for adults to become more comfortable with children playing with fire. According to the Behavior-Based Risk Benefit Analysis he wrote as a play consultant for Wrexham County Borough Council, learning to manipulate fire is important because it is "something that sets humans apart from the rest of the animal kingdom and is therefore one of the things that defines us as human beings … Fire is something that fascinates us both as children and as adults. For children, playing with fire is an important element in understanding the physical world we inhabit."
But is fire really that important —do the benefits really outweigh potential risks? Those who work in adventure play say yes. Barbara Sheridan, Founder and Lead Forest School Teacher at Barrie Forest Kindergarten and Nature School in Canada, host at Campfire Chats Podcast and Podcast Host at Explorations Early Learning Studies, tells Scary Mommy, "Working with kids in the forest I find fire to be an essential part of our forest kindergarten… no matter what support they need, or don't need, there is something magical about watching children, in the zone around the fire and something more magical about sharing that moment with them."
So I'm not alone. My kids beg to light candles, to roast marshmallows, to have a bonfire, anything where they get to light a fire and control it. They aren't pyromaniacs. They just love the concept of fire, the mastery of it. They love to watch the flames. They take their jobs of feeding it and finding fuel very seriously. Of course, precautions must be taken. Never light a fire in a no-burn zone, or an area prone to wildfires; never light a fire without a reliable way to douse it immediately nearby. But children and fire can mix. Children can learn to use it reliably and safely, and we should let them.
This article was originally published on