Video Of Kids Reading To Shelter Animals Is The Cutest Thing You'll See Today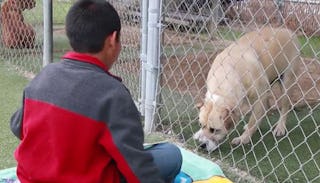 Kids read to animals at shelter in program that helps everyone
Kids are reading to animals at the Santa Paula Animal Rescue Center in California as part of an adorable volunteer program that benefits all involved. The animals get to listen to soothing, non-threatening voices and the kids get to play with dogs and cats. A win-win if we ever heard one.
Living in a shelter, even for a short time, can cause stress and anxiety in the cats and dogs. By having the kids come in after school and read a book or do their homework alongside the animals, the future pets calm down and relax a bit. "If they do get adopted they won't be mean to their owners," 12-year-old Angel, who volunteers at the shelter, told BuzzFeed.
Nicky Gore-Jones, executive director of SPARC, said the program helps dogs become familiar with kids, so they're ready for their forever homes. "The animals are deprived of their normal family life," Gore-Jones said. "If they see children, it's really good for them because the children don't make them nervous and don't make them feel threatened in any way."
The program totally helps the kids too, in ways they don't even realize. With their ultra-chill, furry, reading buddies, they can practice reading aloud in a comfortable setting that isn't rushed. One in five children has serious difficulties learning to read, according to the National Institutes of Health, and reading aloud is a crucial step in helping kids learn to read. It builds foundational skills and allows them to practice expressive reading, according to the non-profit Reading Rockets.
Everyone remembers how panicky they felt waiting their turn to read aloud in a classroom filled with their peers. Reading aloud to the animals is the perfect solution for helping the kids become more confident. "When they read to the animals, the animals are not saying, 'read that again. That wasn't right,'" Gore-Jones said.
The best part is the kids don't even pick up on the fact that they're improving their reading skills. They're just giddy to connect with the animals and help them. Gore-Jones said the process builds compassion for animals in the kids. "I just like to see the dogs," said 8-year-old Angel.
SPARC launched the program last November and kids can now come in bi-weekly to read to the animals. See how much the kids and animals love the program in the video below.