Hot Dogs Are Not Poison, And I Need To Chill Out About My Kid's Food Choices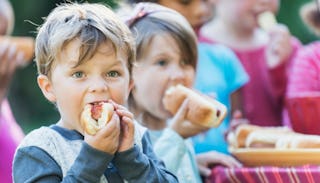 iStock/kali9
There is a half-empty pack of hot dogs sitting in my freezer. It has been there for months since I asked my son what he wanted me to make for dinner on his 4th birthday. I let him scroll through a Google Images search of "kid foods" to help him get some ideas. He stopped scrolling, paused, then told me in the most awestruck of tones, "That's the dinner I always wanted."
It was a corn dog.
"Corn dogs? Are you sure? I saw pizza decorated like a face back there."
He was sure.
So I bought the organic hot dogs with the heftier price tag. That label makes it easy to forget that they're still hot dogs and that hot dogs are primarily made of butt parts. I whipped up a corn batter, and I made homemade corn dogs for my firstborn to celebrate the day of his birth.
Yes, there was a huge box of corn dogs that were already made, frozen, and individually packaged, mere feet away in the grocery store. They came with significantly less labor and a much smaller price tag, but with something else my brain sneakily disguised as guilt.
For the most part, I try to feed my kids fresh, balanced meals. Processed foods are as scarce as I can make them without losing my sanity. There is fruit at every meal, vegetables at most, and meat at few. But no matter how much my rational brain tells me that "good enough" is still really good, I get this shitty feeling that I'm somehow tainting an otherwise healthy lunch by including a miniature peanut butter cup once in a while.
This is not how I was raised. Growing up, every single vegetable that came into contact with my plate was canned in salt brine. I didn't start my day with anything more substantial than a bowl of sugar carbs and a cereal-milk chaser. I can count the fruits and vegetables I ate on one hand, and they were rarely a part of my diet. Hell, I didn't even try a strawberry until my husband and I moved in together. I finally trusted him enough to believe they were maybe not disgusting. As I grew up, I tried more foods and occasionally made cuts to some of the least-healthy staples of my diet.
Once I had children, I was determined to raise them to have a better relationship with food than I had. My mission was to expose them to a wide variety of whole foods. That somehow morphed into a hope for them to instinctively run outdoors to pick fresh green beans for a snack at the first sign of hunger. There may have been some singing birds and a talking squirrel or two in that fantasy as well.
Guilt aside, when it was dinnertime on my son's birthday, I wasn't upset about making him his corn dogs. He loved them and asked for a second one. He never asks for more of anything at dinner because he knows that is one more obstacle between him and dessert. But the kid loved those corn dogs. And so did I. Corn dogs are fucking delicious. I didn't feel bad at all in that moment about giving my son what he asked for on his birthday.
But now those extra hot dogs are in my freezer. They have maybe a month left in them, so I need to get them on a plate and in a belly or else they're going in the garbage. But not once over the last few months did I think to cook and slice 'em up for dinner. I didn't want to reach for the hot dogs when I knew I had something healthier on hand.
Letting my kids indulge in their favorite foods leaves me feeling like I'm inching them closer to a life of low test scores and high blood pressure. At least momentarily. Despite the fact that I basically walked around with a feedbag of Cool Ranch Doritos strapped to my face throughout my adolescence, I still managed to complete a few semesters of community college and maintain a not-terrible BMI. If anything I'm feeding them is making a difference, by comparison, they'll both be Olympians with an EGOT each by age 20.
And as much as I don't want to turn food into an overly emotional thing for my kids, I have to remember that food is inherently emotional. Food is a part of our family and social events. Food is a part of celebrating and coping. Food is a huge part of our culture.
When I think back to any happy food-related memories as a child, they don't include grilled chicken breasts. There was the time my grandmother made us ice cream sundaes for dinner for no reason. Or the first time I was allowed to make dinner for the whole family. Or how every birthday I had an apple pie with candles in it because I was never a huge fan of cake.
The underlying reasons why those memories stick with me are the spontaneity, the excitement, and because apple pie is one of the best things on this planet that I can enjoy without risking arrest. Maybe my son will remember that birthday when I made him the corn dogs he loved.
So I'm trying to let go a little. I realize I'm overly neurotic and uptight on this particular matter, when in general I'm a pretty mellow mom. Treats are called treats because they're for sometimes and because they feel good. Feeling good doesn't have to be followed by feeling like you're doing something wrong. Teaching my children to have a healthy relationship with food includes teaching them how to indulge without going overboard, and especially teaching them not to feel guilty about it afterward.
Time to put some butt parts on this week's meal plan, I guess. With no side of guilt.
This article was originally published on