Devices: How Young Is Too Young, And What To Do After You Say 'Yes'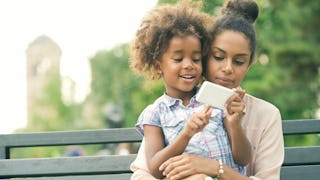 MStudioImages / iStock
Last month, my doll-loving, pigtail-wearing daughter turned 7. In the months leading up to her birthday, my soon-to-be 7-year-old crafted her wish list. In years past, the list contained every item featured in the American Girl catalog, craft projects galore, and a few random toys she had spotted on Sprout infomercials. This year, the list looked drastically different. It contained one single item.
A phone.
My daughter was fixated on the phone. She explained that she needed it to make and receive calls, to FaceTime, and to send text messages. When we told her that a phone was not happening at 7, I braced myself for a massive meltdown. Instead, she calmly asked if we would consider compromising and get her an iPad or an iPod Touch. Before I could respond, my self-assured 6-year-old explained that she planned to use the device responsibly and carefully. She would put it away during meals, wouldn't share passwords, and would let us know immediately if she was contacted by a stranger.
Clearly, my daughter was listening while I was working.
As a lawyer turned violence prevention consultant, I work with students, parents, and educators to craft strategies that seek to empower young people to navigate online safely, thoughtfully and with empathy. During my interactive workshops, I troubleshoot situations that showcase the complexity of social media, the permanence of photographs, and the pitfalls of a dizzying world where every detail is documented. At the center of all of my work is my firm belief that if we want to prevent digital disasters, we need to crack open a complicated conversation early and often and create clear, unambiguous boundaries that empower smart decisions.
So here I was with the inevitable upon me. My work world and my home world were colliding.
Now keeping it completely candid, I would have definitely preferred to keep my child device-free forever. As parents, we are wired to protect our children, and I had seen too many online situations unravel into heartache, expulsion, or worse. But the facts were not in my favor: 95% percent of 8–11 years olds have used the internet in the last four weeks, and 45% percent use social networking sites. Keeping a device away from my daughter would be next to impossible. Instead, I chose to use this request as an opportunity to begin to craft parameters that would enable online exploration in a safe, healthy, and carefully managed way.
On the evening of her birthday, my sweet birthday girl unwrapped her wish. The iPod Touch came with one very specific instruction. Before "plug-in" was a possibility, she would need to sit down with me to set up our joint expectations. To my surprise, my daughter was eager not only to hit the "on" switch, but also to craft our contract.
In drafting our expectations, I, too, had to examine my own conduct that would now be scrutinized. And trust me, there were things I could do better. If I was prohibiting devices at the dinner table for my children, I could not pull mine out to "just to check a work message." The days of taking pictures without permission were now over. But with that realization also came the belief that I was taking necessary steps to set my girl (and her mom) on the course toward using technology as a tool without it becoming an appendage, a source of constant distraction or a device that fuels disconnection.
For the last month, I have been blown away by how thoughtfully my daughter has handled this new responsibility. On her own, she docks the device before dinner and intently watches the clock for her 8 p.m. shutdown. While I am not foolish enough to believe that this exceptional post-birthday conduct will continue forever without reminder, I am optimistic that together we are creating a path toward healthy boundaries and ongoing open lines of communication.
For many families I work with, a total technology takeover feels imminent, unavoidable, and overwhelming. As parents raising children in an ever-changing wired world, the challenges are rampant and real. Keeping our children safe and free from the harms of endless online communication can feel like a full-time, daunting job. But when I look at my 7-year-old and her endless possibility, I see solutions. Fostering smart, safe choices online doesn't mean keeping devices (or our daughters) locked in a closet forever. It means setting up structures and distinct boundaries that allow for safe, thoughtful engagement on and offline.
And in keeping with that theme, my sweet little 7-year-old, no matter how persuasive you are, you are not getting Instagram, Snapchat, or Facebook any time soon.